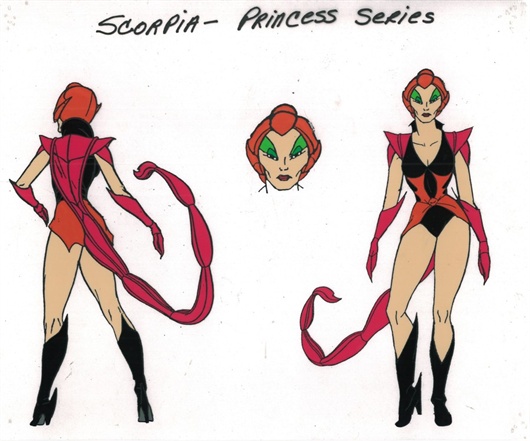 Let's meet our spankee-to-be, Scorpia! This appears to be an actual model sheet preserved by Grizzlor. © Mattel Inc.
Today's spankee is the villainess, Scorpia, who resembles a scorpion with her pincer-like hands and stinger-equipped tail. She looks quite a bit like a female version of the old Spider-Man villain The Scorpion. Anyway, she deserves everything she's about to get!
In the last of the three She-Ra scenes by El Manto Negro, we have good OTK positioning, specifically the variant in which the spanker uses one leg to lock both of the spankee's in position, and a gloating She-Ra rubs it in by asking Scorpia, "How is the sting?" Judging from the color of Scorpia's bare bottom, we'd say it's stinging pretty good about now!