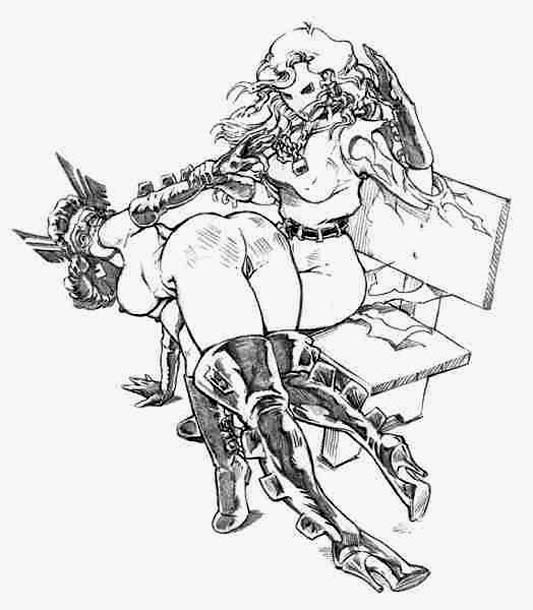 Somebody apparently took this one from Naked Justice. © "The Artist Wolf" who accepts commissions - contact him at the site above for more information. Posted by the Web-Ed on 06/01/2012.
Little was known about this one - it appears to be a superheroine spanking a supervillainess, although we suppose it could be the other way around - until Wolfie138 came to our aid for the second time and informed us it was "Wolf" again (the first time was here). We had actually noted the similarity but weren't sure; also, in our notes we found the entry "may be Morpheus" which added to the uncertainty. In any case, this is a very nice spanking in several ways: very good OTK positioning, determined spanker pinning the spankee's arm behind her back, and a shapely bare bottom making a fine target for the spanking southpaw!
The only things we would change would be to eliminate the "exposure" as we have called it elsewhere, because it strikes us as gratuitous, and to make this M/F. Once again we're forced to wonder why the vast majority of independently-produced superhero spanking seem to be F/F. We understand that it has its place, but M/F is the rightful king of orientations and we'd like to see more of it. Still, this is a fine example of F/F spanking art.