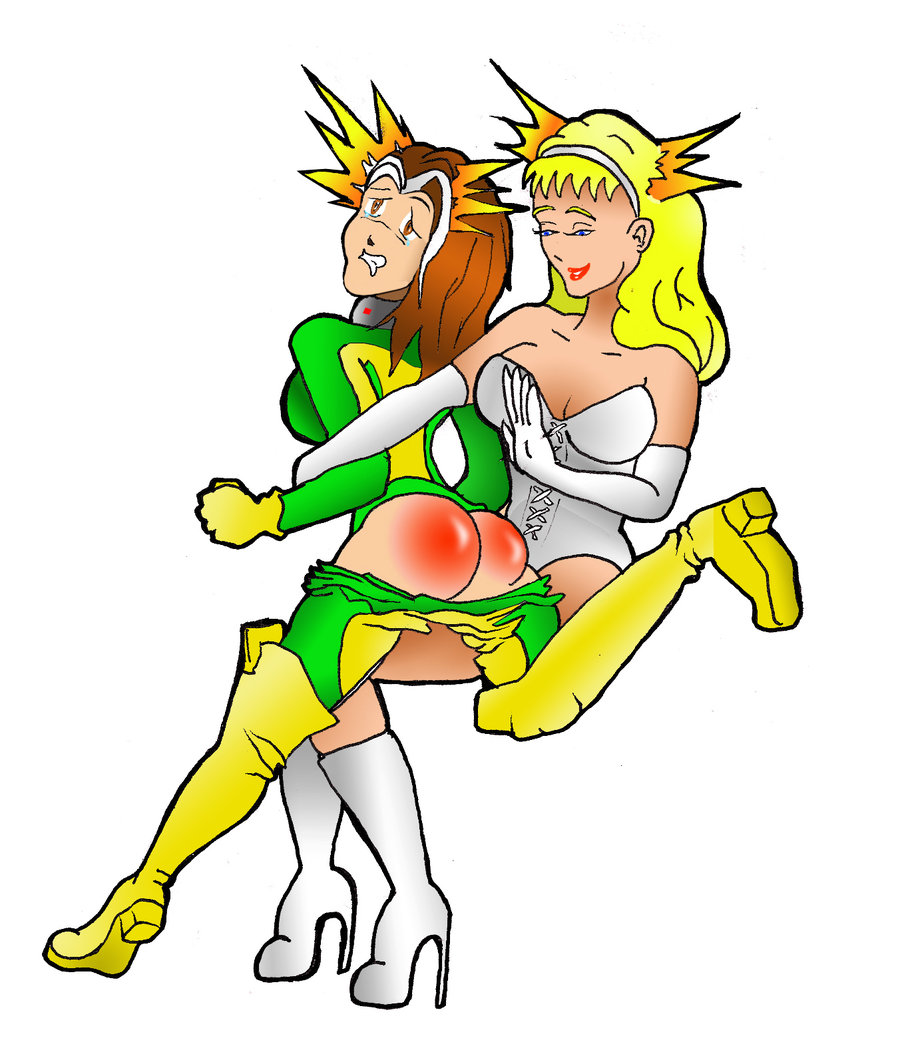 White Queen (Emma Frost) spanks Rogue. Art by Coolcontent. Characters © Marvel Characters Inc. Posted by the Web-Ed on 07/05/2013 (click to double-size).
We'd have to say that there does appear to be a sort of spanking "pecking order" among the X-Men characters, based on the rough consensus among independent artists as to who spanks whom. Going from most dominant to most submissive, it probably runs something like this:
Wolverine
Jean Grey (Marvel Girl, Phoenix, Black Queen)
Ororo (Storm)
Emma Frost White Queen
Rogue
Of course, many of the X-Men have been left out, never appearing in spanking drawings. Scott Summers (Cyclops), the first X-Man, should probably have appeared many times in the dominant role by now. There was one years ago of him spanking Kitty by Adam Walters, but we never posted it because we figured she was about 14 years old (send us an email if you want to see it). A Scott/Jean spanking would certainly be natural - and satisfying!

Anyway, poor Rogue is pretty much at the bottom of heap, meaning she doesn't spank anyone but everyone gets to spanks her, and this time, it's White Queen's turn. The OTK positioning is flawed with Rogue's left leg straight and actually supporting her - you don't want the spankee to have that much control, you want her well turned over and fairly helpless. The artist, Coolcontent, does give her a very nice round bubble-butt, perfect for spanking and nicely reddened. Although this was probably a disciplinary spanking, Rogue's discomfiture and Emma's smile lends a humorous aspect to it, with perhaps a hint of desire.

This was a commissioned work, and Coolcontent is no stranger to spanking and other fetishes. She also knows how to draw an attractive derriere. All of her spanking art that we have seen has been F/F.