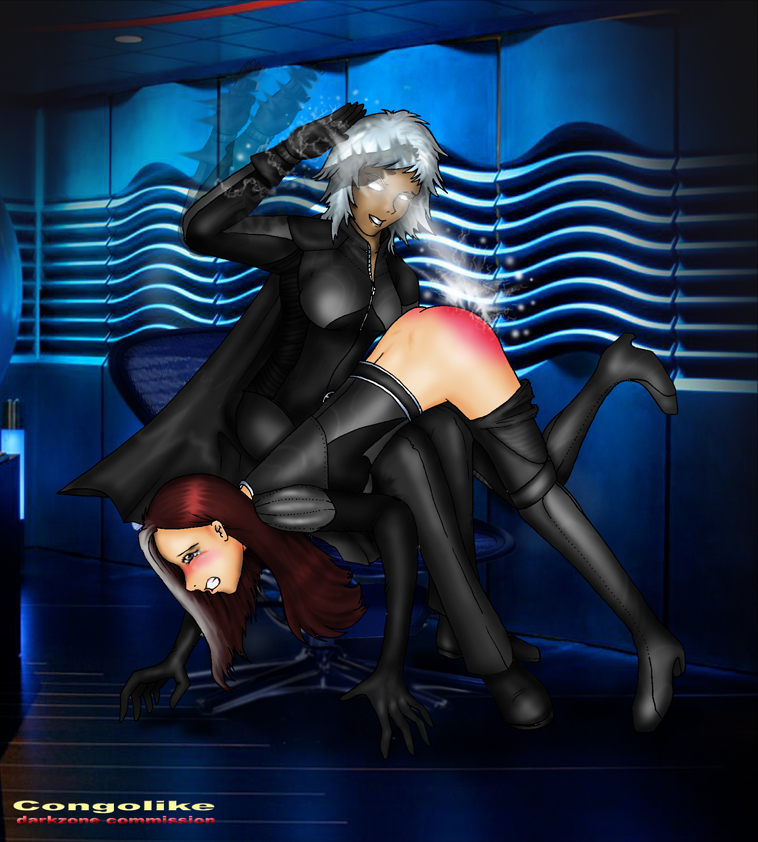 Art by Congolike. Characters © Marvel Characters Inc. Posted by the Web-Ed on 06/28/2013.
We mentioned last time that the X-Men villainess The White Queen (Emma Frost) had proved to be a popular spankee with independent artists, and that seems to go double for Rogue even though we've only seen her in this gallery once before, when she was spanked by Wolverine. Like that one, this is by Congolike, who did it as a commission for Darkzone. Maybe it's the name - "Rogue". If she calls herself that, why not take her at her word and treat her accordingly?
So who is Rogue? She had a convoluted origin, coming some years after the new X-Men and actually starting out as a villainess - another good reason to spank her! She always struck us as being something like The Parasite over at DC in that she absorbed abilities from other people. We can't tell you a whole lot more than that without consulting some references, which frankly we don't want to do because we hated all the X-crap that started coming out in the 80's - it was incredibly mawkish, appealing to self-involved teen-agers and frequently lapsing into psychobabble. Suffice it to say that Rogue makes a good choice for a spankee.
Congolike gives us great OTK positioning here - Rogue's fingers and toes are both brushing the floor, causing her bottom to be raised nice and high! While it looks like Storm is spanking with the wrong hand, she might be using her right hand to apply some of her storm-energy to Rogue's already-stinging bottom, making it hurt even more. The dark, almost midnight blue dominates Congolike's unusual, analogous color scheme - a characteristic we've pointed out before.