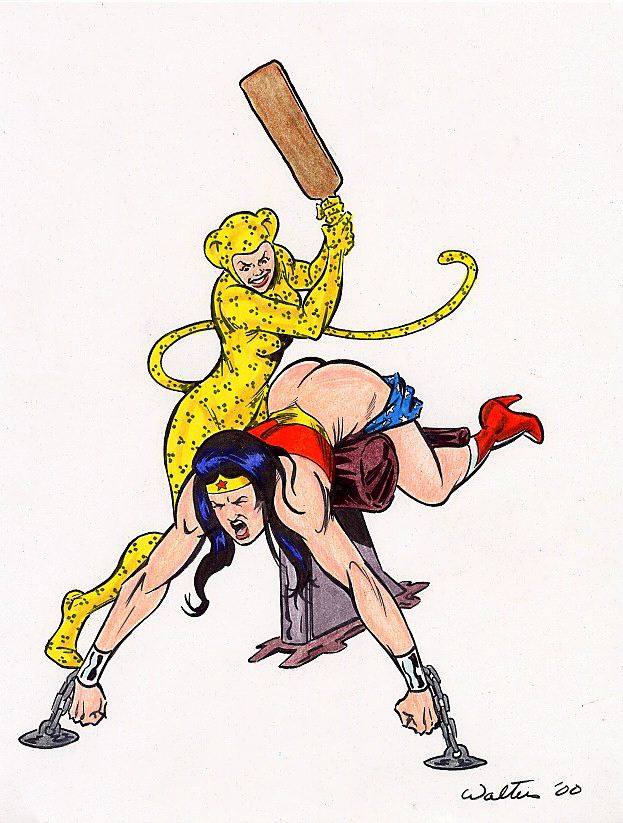 Looks like WW really feels those swats! Art by Adam Walters. Characters © DC Comics Inc. Posted by the Web-Ed 02/05/2010 (click to increase in size).
Every time we think we've seen all of Adam Walters' superhero spanking cartoons, another one seems to turn up somewhere. This time, we found one of Wonder Woman getting a panties-down paddling from her old enemy, The Cheetah. We're pretty well pleased with this paddling, as you might imagine, for Walters on this occasion realized (or was informed) that large paddles cannot be used OTK, hence we get treated to seeing WW chained to an rather unusual-looking spanking horse. We still prefer that the legs be kept vertical when a bent-over position is used, but this kind of angled design does have a rather long history, especially when the cane is employed. The expressions are certainly enjoyable - we only wish we had a higher-resolution scan. [Note: we did replace the original scan with one of slightly better resolution in Sept. 2013.]
Here is an early appearance of the Cheetah, on the cover of Wonder Woman #6 (Fall 1943).