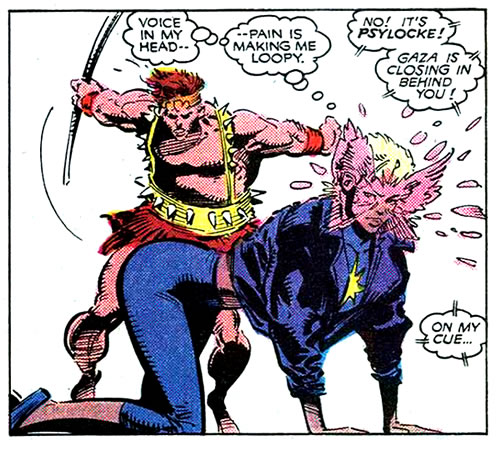 Make the next stroke count, big boy! Characters © Marvel Comics Inc. Posted by the Web-Ed on 08/19/2011.
We're calling this "X-Men Caning #1," but the truth is we don't know if there is a #2 (we're trying to be optimistic). In fact, we're not even sure this "Caning #1" is what it appears to be. We found it on the Comic Book Resources Forum as part of an X-Men scavenger hunt ("find an X-Men spanking")! Unfortunately, no publication details were given, and while it does seem to be from a X-Men title, probably X-Men itself, we don't know for sure because we stopped reading it sometime back in the 80's. It was then the proliferation of X-titles began (X-Crap is how we've referred to them elsewhere). We just couldn't take writer Chris Claremont's psychobabble and political correctness ("Is there any reason why this character couldn't be a woman?") any more, no matter how nice a guy he was.
While we can't positively identify the characters here, the woman refers to the "pain ... making me loopy" and the guy (we think he's Gaza) is clearly taking aim for her rear end with that rod of his, so it does look like an actual spanking, but we'll have to give it a "not confirmed" classification in the Comics Spanking Data Base for now.