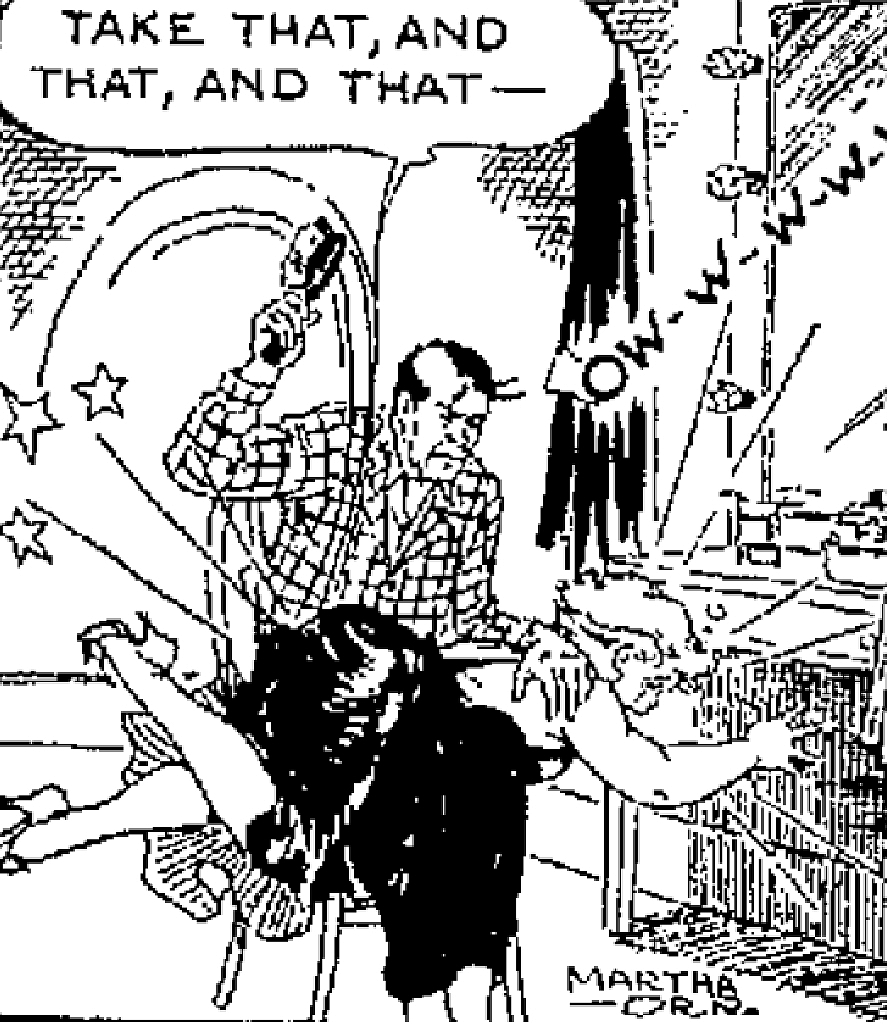 © Publishers Syndicate. Posted by the Web-Ed on 05/28/2010.
A common sight in the Great Depression was desperately poor people trying to survive by selling apples from pushcarts. Star Trek fans may be interested to know that in the original script of The City on the Edge of Forever, which of course was set in 1930, there was a character named Trooper who, having lost his legs in World War I, did just that (the character did not appear in the aired version, much to writer Harlan Ellison's dismay). Apple Mary was another such apple-seller, and her eponymous strip ran from 1934 - 1939. We don't know too much about it, but there was at least this one spanking, thought to be from 1936 and signed by the strip's creator, Martha Orr.
We can't identify either the spanker or spankee here. It's not likely that Mary is the spankee since she was an old woman, although the spankee doesn't seem all that young either. The scene seems to be taking place in a backstage dressing room, and we don't have any of the surrounding panels, so we can't imagine how it would have fit into the overall context of the strip.
Apple Mary was too much of a depression-era phenomenon to survive that era's passing, although there was a rumor that it metamorphosized into Mary Worth (which had two spankings of its own that we'll be presenting later). We couldn't confirm this rumor, and King Features Syndicate has denied it. We have not heard of any other spankings coming from this strip.