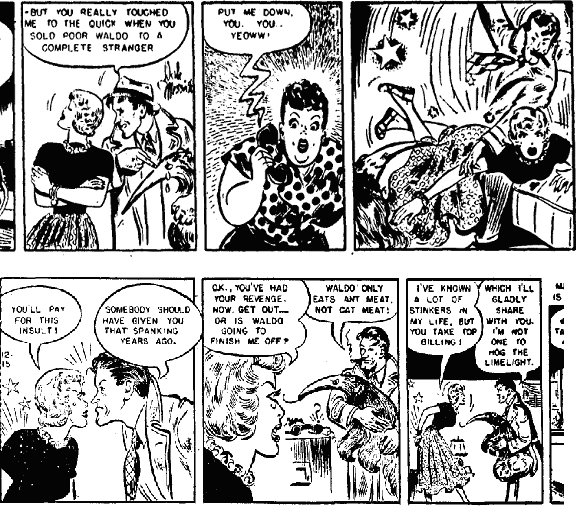 © Chicago Tribune Syndicate. Posted by the Web-Ed on 07/02/2010.
Here's the second spanking from Brenda Starr. It's similar to the first in that bratty behavior is once again the catalyst for the OTK treatment. This time our bad girl has tried to sell Waldo the Anteater. The dialogue leads us to believe this wasn't her only sin, but it's enough - we really don't hold with the mistreatment of animals. Evidently Dale Messick thought the same way, for once again the spanks are laid on good and hard. Even three panels later, the spankee is still rubbing her bottom and the stars still indicate how much it smarts!
The date of publication appears to be December 15. According to JS666, who wrote to us after this page first appeared, the year is 1948 and the spankee is none other than Brenda herself!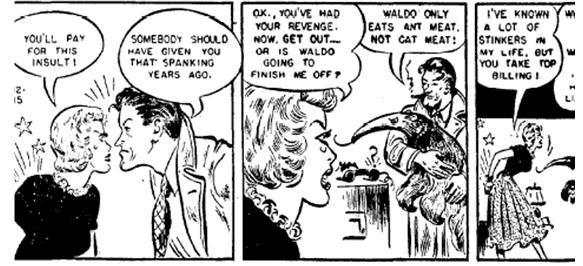 © Chicago Tribune Syndicate.
Here again are the immediate post-spanking panels.
JimC reminded us recently that Brenda Starr (the character herself and not just the strip) had won our poll, Which Strip Heroine Should Be Spanked? As the winner, Brenda was placed on the official CSR commission list, which means that we're going to commission a drawing of Brenda getting spanked when we can.
The black and white version of the spanking panel was extracted from the scan above, while the color version came from a Spanish-language blog. Dan Rivera did the coloring, from a poor b&w copy on microfilm(!).