02/06/2015 Update: A scan known to be of Campus Romances #2 became available, and it validated many of our conclusions. We'll go over those now and enjoy some better-quality scans at the same time.

First, although we were pretty confident in our identification, it's good to know we got the title and issue right: the spanking did indeed come from Campus Romances #2! Second, we can now confirm that the artist was indeed Ed Waldman; whether he did the story too is something we'll probably never know. The whole story is rather overwritten with the speech balloons crowding out the visual content, which makes us suspect the writer was someone other than Waldman (it's very easy to overwrite a comic, by the way, and not having a lot of "verbal space" is one of the medium's limitations).

At seven pages, the story was a little long to present in its verbose entirety, so we're going to boil it down to its essentials. Let's begin with Page 3, where we meet our principle characters. Jean is engaged to Walt, a steady chap the same age she is. She wonders about the distinguished-looking older man (he seems to be modeled on the middle-aged Clark Gable) who's calling on her mother (her father having passed away some years ago), and finds out his name is Dick Thompson and that he had known both her parents years ago. She finds herself attracted to him and determines to leave Walt in order to get him for herself.
Jean basically doesn't appreciate Walt, blows him off, and then makes a play for Dick! Really, she deserved to be spanked by both men, but one would have to do as Dick finally has had enough and gives Jean the spanking she truly needs.
It's basically a paternal spanking, well-deserved and salutary in its effects as Jean becomes a little more mature. Her mother notes that Jean has learned a lesson without mentioning the method by which that lesson was taught, and interestingly notes that what Jean needs is a father. Jean herself refers rather obliquely to her "bruised and outraged pride" which is a way of admitting the spanking violated her person and that her behind was bruised in the process, leaving her humiliated. "What College Failed to Teach Her" a good spanking did!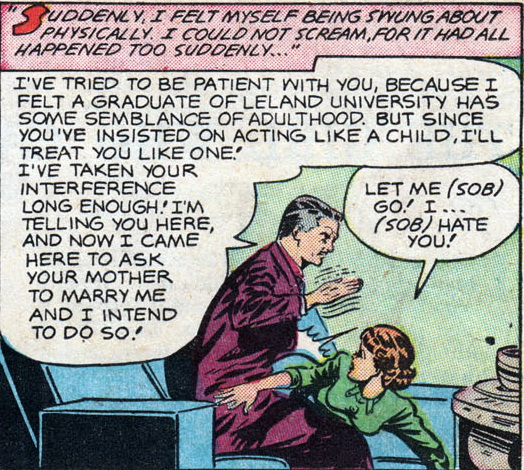 Here's the spanking panel. We've already discussed the obvious problems with the panel. Still, this is a good scene emotionally with an older man giving a young woman the paternal spanking she obviously needs. We cannot recall another set-up exactly like this in any other romance comic spanking.
And once again spanking leads to a happy ending, with the more-mature Jean ready to marry Walt, while Jean's mother and Dick prepare to tie the knot as well. Hooray!