<!- IMAGE ->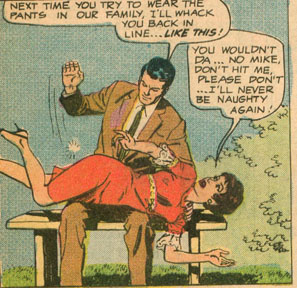 Another spanking from a Charlton romance comic, Career Girl Romances #45 (June 1964). This one is rather less romantic than Teen-Age Love #57 (see it here ) - the man is a little rough in his manner ("The next time you try to wear the pants in our family, I'll whack you back in line - like this!"), the positioning less suggestive, and we don't see the same degree of passion that was demonstrated there. Now we agree that the man must wear the pants for a relationship to be as satisfying as possible to both him and the woman, and we certainly believe that he may find it necessary to assert his authority from time to time by administering a good spanking, but he should make it clear that it's for her own good and the good of the relationship.
<!- IMAGE ->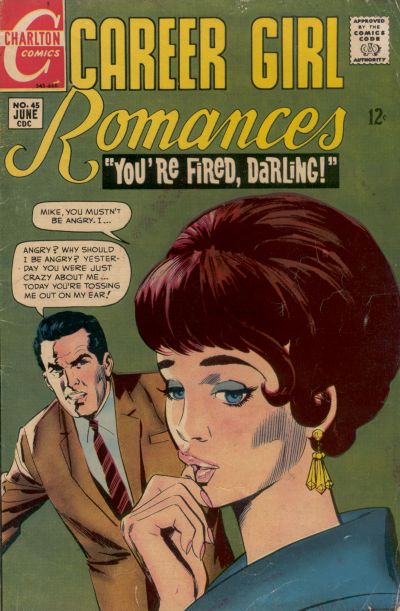 Here is the cover of the issue from which the above spanking was taken. The way these things keep turning up we can't help wondering: just how many Charlton spankings were there are all together? Thirty years ago, only a few romance comic spankings had actually been documented (see, e.g., Overstreet's "The Comic Book Price Guide" No. 9), but back then, comic book scholars were few and far-between, and of course there was no internet to disseminate valuable information (such as where to find comic-book spankings!).

We may infer that at some point, the "career girl" pictured on the cover informed her lover Mike that "You're fired, darling!" as if being in charge at the office allowed her to treat him like a subordinate at home. Big mistake! We don't know exactly what he replied, but we'll bet it was something like "And you're going to get spanked, darling!"

We hope our views are not misunderstood here - we believe that women deserve the same career opportunities as men. But no matter how lofty a woman's professional career, at home she should be spanked by her man just as if her position were less exalted. Remember, men: women with high-powered careers need to be loved (and spanked) too - don't be intimidated by them, and don't hesitate to take decisive action when called for!

Added 4/27/2008; © Charlton Comics, INC.

03/09/2012 Update: While researching the effects of the Comics Code on spanking in comics, we discovered there was something unusual about this spanking - it was the only non-parental, non-robot M/F spanking to make it past the Code Office during the entire ten-year administration of Mrs. Guy Percy Trulock (1956 - 1966)! This is an amazing revelation, proof that Mrs. Trulock and her Code Ladies (as they were sometimes called) really hated M/F spanking scenes. We have to suppose that perhaps someone in the Code Office missed this spanking, and that the issue may have been approved by accident.