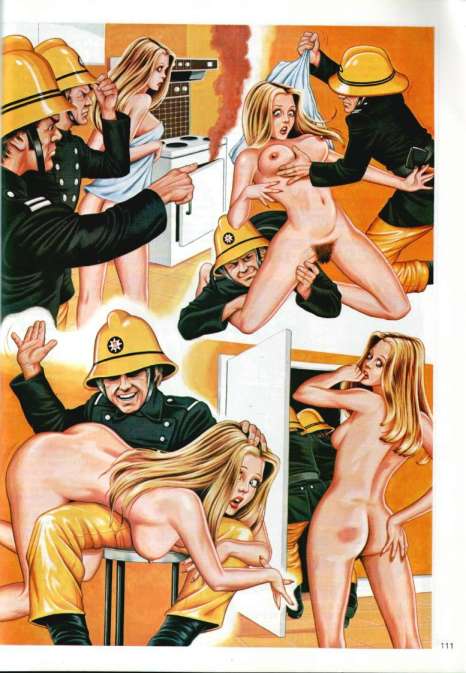 From Mayfair (March 1977). Art by Steve Kingston. Posted by the Web-Ed on 12/09/2011.
Carrie fans only had to wait five months after the rowing team paddled her until her next spanking, which took place in the March 1977 issue of Mayfair magazine. In the interim, Steve Kingston had become the artist, a position he would hold for the remainder of the strip's existence.
As we remember this episode, Carrie has called the Fire Brigade, but when they arrive they find no fire, only something burning in the oven. Incensed over the false alarm, two of the lads take some liberties they shouldn't have, and one of them takes Carrie OTK, which he should! We hope that Carrie felt a four-alarm fire where she sat down. Kingston had obviously never seen a freshly-spanked bottom (poor guy), for in the last panel he misplaces the red area on Carrie's backside.
We think that Jon (UASketcher) may have done an animated version of this spanking, but when we checked our files we couldn't find it. If it turns up, we'll post it here.