We begin now a series of spankings from the comic strip Etta Kett. Sweetspot, who discovered all five, mentioned to us that it is somewhat uncommon for the female lead in a comic strip to get spanked, an observation we have made ourselves but more particularly in regard to comic books rather than newspaper strips (it would have been wonderful for superheroines like Ms. Marvel or Supergirl to get spanked in their own titles, but it never happened). Strips are different, and we've seen such spankings in Brenda Starr, Diana Dane and Suzie Q. Smith, and we're about to see five more.
We don't remember Etta Kett from our youth, but it was out there from 1925 to 1974, a run of almost fifty years, all of them under creator Paul Robinson. There weren't many other strips about teen-agers before it (we think Harold Teen was probably first out of the gate in 1919), and in the beginning, it was intended to teach proper etiquette (Etta Kett) to young people, and that might have been fine for a one-panel weekly but it simply couldn't generate enough stories for a daily and Sunday strip, so it began to follow the general pattern of comics about young people. In the episode below, Etta is having some of the usual problems with her boyfriend, and he adopts the usual method of dealing with stubborn girlfriends - he spanks her!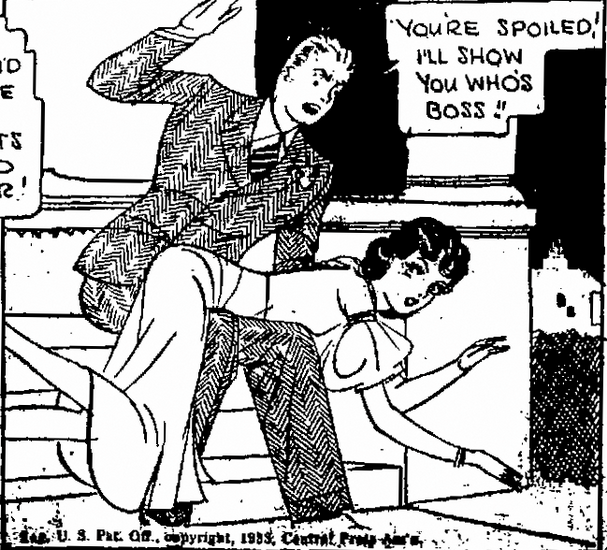 The spanking panel. Scan by Sweetspot. © King Features Syndicate.
The spanking panel is pretty good. Wingey gets the OTK positioning just about right, with his knees not too far apart and Etta's rear end raised up until it's the highest point of her body, and the only real problem is that her hips are canted slightly to the left. The style of the art is not overly erotic and in fact Etta looks a little scrawny, basically because "Good Girl Art" in the modern American sense had not been invented yet, but it's still a nice panel too look at and a major discovery by Sweetspot. We will discuss Robinson's drawing style in a little more detail next time.
A last thought: that a strip originally devoted to teaching adolescent boys and girls how to behave would present a boy spanking a girl must certainly be read as an implicit endorsement of M/F spanking, and even Mrs. Kett utters not one word of disapproval over her daughter's spanking. This was only a few years after "flapper spanking" seemed to have widespread approval, a time before feminism - a much better and more enlightened time.