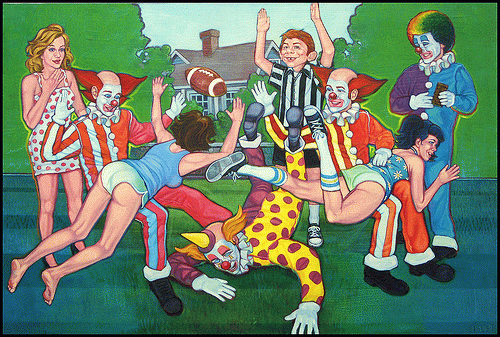 Posted by the Web-Ed on 01/14/2011.
Continuing our series of Modern Comic Book Spankings we have another example taken from MAD magazine. We don't have the issue number; we searched it out after JimC remembered seeing it somewhere and apprised us of its existence. This is a very strange-looking scene, with a double-spanking by two clowns witnessed by two others and a woman in a polka-dot dress, while a football sails overhead and Alfred E. Neuman, wearing a referee's shirt, signals a touchdown!
Now as some readers will no doubt be aware, MAD used to run a feature on the inside back cover called the "fold in". Perhaps they still do; the fold-in was a regular feature for at least all the years we were reading MAD. When you folded the page in lengthwise thirds so that the middle third was covered, a new picture and new caption were revealed (see below).