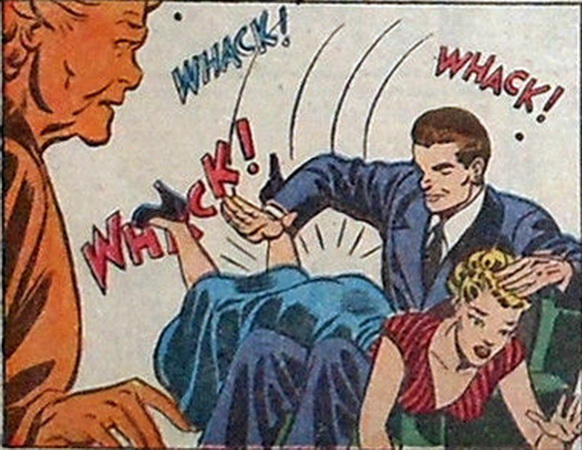 Mary Worth, March 28, 1948 © Publishers Syndicate.
03/03/2017 Update: Well it's taken almost seven years, but we now have some new scans and can give the exact date this spanking occurred: it was Sunday, March 28, 1948, so the strip was in full color. Let's take a look at the spanking panel first.
With this much better scan, we can see there's a fair amount of detail. The husband is handsome and determined, while the spankee-wife is looking up, thus arching her back, even as his left hand keeps her from pulling her upper body too high (rather unusual positioning), and there's even a very short line helping to define her buttocks - a great improvement!
With the date known, we can now confirm our supposition above that the creative team was Allen Saunders and Ken Ernst.
Here is the entire page from Andre. We don't really get a whole lot of additional background information, but then again, we don't need a whole lot more to understand why the spanking is being given. We do learn that our spankee's name is Junior Jaxon, that she's a model, and that her spanker is her finaceé, Johnny Jones. We might also mention the after-spanking hug - a very nice touch.