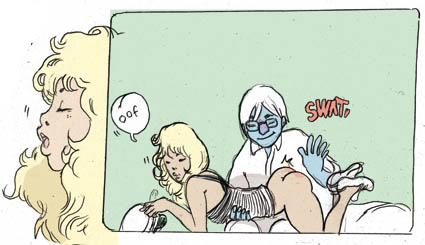 Posted by the Web-Ed on 05/18/2012.
Many benefits from spanking have been claimed over the years, from stress relief to behavioral improvement, but this is the first time we've ever seen anyone grow a new nose as a result of being spanked! The idea apparently came to creator Brandon Graham in May of 2011 while he was thinking about the tiny noses drawn by artist Milo Manara (who once did a book called The Art of Spanking).
The OTK positioning is appealing with Graham giving his spankee a very cute bare bottom, although her hips are raised to an improbable hieght. We're not sure if he's into the scene or if he's ever done any other spanking comics. We'd like to see some more of his work.