We've seen one instance in which a girl was spanked by a squirrel, but this is the first (and only) time we can think of that a girl was spanked by an iguana! No OTK positioning in either case, alas, but then, that would be a lot to ask from a small animal. The strip in this case is called Yenny, and the iguana is Yenny's pet Zacha.
Creator Dave Alvarez describes his strip this way:
"The main character is called Yenny. She dreams of becoming a famous catwalk supermodel but she can't because she has enormous feet. So she works her way to college taking different odd jobs. Yenny lives with her mother in a Puerto Rico beach house and a fast-talking iguana called Zacha."
Yenny has appeared in comic-book form, although we think the strip form we see here came from an online source that is no longer available. The only current website relating to the strip we know of is Yenny Lopez.

Thanks to Alan, who sent this one to us.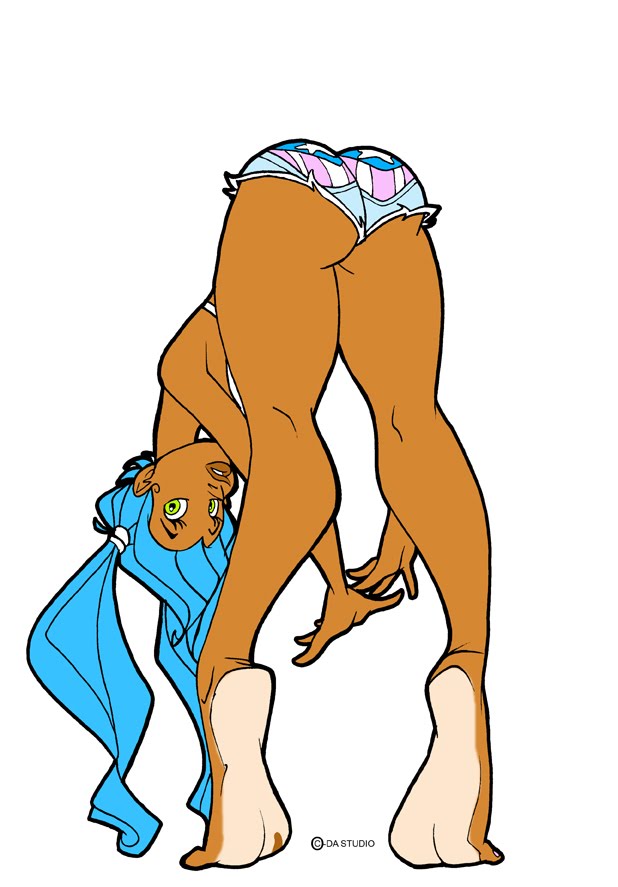 © David Alvarez.
Interestingly, Zacha delivers the swat in an attempt to cheer Yenny up. Certainly spanking someone always cheers us up, although we're not sure the spankee feels the same way.
Here's another shot of Yenny in which she displays her big feet.