Let's examine what we have here: no fewer than seven women are shown getting spanked, including two queens (and not counting the aborted spanking of Buttercup), and an equal number are shown with pillows strapped to their behinds! Also, the spankings get plenty of visual emphasis, in some cases extending over from one daily strip to the next. The very idea of a potion that sends a man on a spanking rampage certainly suggests that either artist Ralph Fuller or less likely the uncredited writer Bill McCleery (who was also the comics editor of the Associated Press syndicate that distributed the strip) must have been into spanking. At some point it appears that Fuller took over the writing, making him the more likely suspect. The four other known spankings in Oaky Doaks, all but one of them M/F, would seem to leave no doubt - how could you have 11 adult spankings in your comic strip (12 if we count Buttercup) and not be into the scene? There's probably no way, but there is something that forces us to consider the possibility that McCleery or Fuller simply felt the way Kings Arthur and Henpeck do in desiring to take their out-of-control women firmly in hand.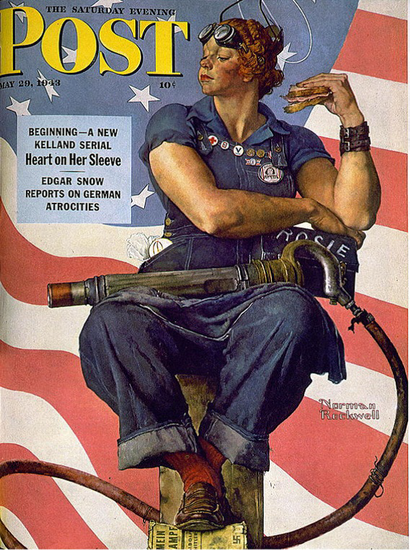 Rosie the Riveter on the cover of the Saturday Evening Post, May 29, 1943, just three months before the spanking storyline began in Oaky Doaks. Art by Norman Rockwell.
Sweetspot and I talked it over and agreed that what could be going on here was a reaction to women taking over responsibilities they had never had before while the men were off fighting WWII. What led to this was simply a shortage of factory workers needed for wartime production. To encourage women to take these kinds of jobs, previously held almost exclusively by men, the character of Rosie the Riveter (seen at left) was invented to exemplify this new female worker.
Now it's possible to overstate this case: feminists might like to believe otherwise, but women were not "oppressed" until the 1960's and the feminist movement that began during that decade. The truth is that relatively few new women entered the workforce during the war; many had been laid off from their jobs during the Great Depression of the 1930's and were simply returning to the workforce when new positions opened up. The "working woman" was nothing new - think of Winnie Winkle's subtitle "The Breadwinner" going back to the 1920's - what was different was that women were now employed in formerly male-dominated trades. It does seem apparent from the names "Sissi" and "Henpeck" and the burly appearance of Queen Addie Kate (who smokes a pipe!) that McCleery/Fuller felt this change represented some danger that women would act too much like men and men would become emasculated unless some action were taken to restore traditional sex roles.
What specific action they felt would be most efficacious we can see here very well, and we have remarked many times on the ability of spanking to humble the prideful female. The effect is accentuated where the spankee is highborn or otherwise privileged, and we see that clearly here with the spanking of the two queens. Notice that the beautiful Guinevere loses her crown while being taken over Sir Oaky's knee just as Queen Pera did when being spanked by The Phantom, symbolizing their loss of station, and Queen Addie Kate, who epitomizes the female too big for her britches, has her humiliation is extended over several panels.
We have pointed out also that several of the women (one of those talking in the street, the messenger sent by Queen Addie Kate) show a decided preference for a strong man who doesn't hesitate to spank, and the Queen herself openly admits to having enjoyed the spanking Sir Oaky administers. This last really crosses a line, as we have pointed out with regard to the Humorama spanking cartoons: when the spankee enjoys the spanking, it's gone beyond the purely disciplinary and has entered the erotic realm. It does seem, therefore, that the creator(s) of this most spanking-centered storyline in comics history must have had at least some interest in adult spanking.
Oaky Doaks was reprinted in comic book form in Famous Funnies. Because Famous Funnies has never been completely indexed, we have been unable to determine if this Spanking Storyline was ever reprinted there although we have of course searched through all the available issues. If it was, it would be in full color but possibly abridged, and we will certainly add it here when it finally turns up.