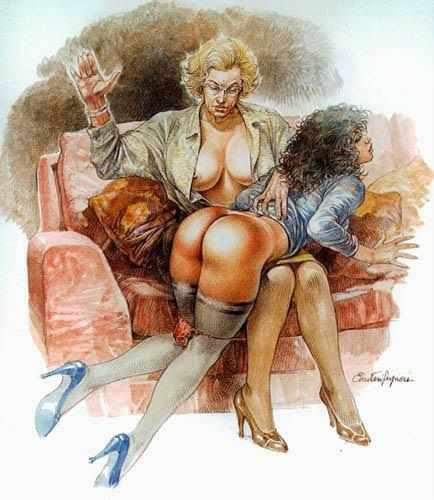 © Paolo Serpieri. Posted by the Web-Ed on 05/14/2010.
We have seen what Dr. Cylon can do with the work of Paolo Serpieri here and here. But once and only once as far as we know, Serpieri did his own spanking without aid. Here it is, involving the uninhibited Druuna, one of his best-known characters. Now, comic fans though we were, we never really followed Heavy Metal or Morbus Gravis during the 80's and 90's, recognizing much of their content as pornographic or otherwise uninteresting to us. Yet if Druuna was pornography thinly-veiled as Science Fiction, it was also pornography that was exceptionally well-drawn! Serpieri is one of a group of Italian artists who, whatever their merits as literary authors, at least draw the human figure very well. Having trained as a fine artist in his youth, Serpieri may in fact stand at the head of that group.

One thing that Serpieri is noted for in particular is the way he draws gorgeous women with beautiful behinds. We're perfectly aware that to be overly concerned with such things is a hallmark of immaturity, but where spanking is involved, a lot of people (including us) believe the eroticism is enhanced by giving the spankee a nice, spankable bottom, and the one Serpieri provides Druuna with here is about as good as you're ever going to see! Druuna is perfectly positioned over her Aunt's knee (we think it's her aunt, but honestly, we're not too worried about who it is) with her bottom up and panties down! When we see something as beautifully drawn as this, we really wish Serpieri would do some more spankings!