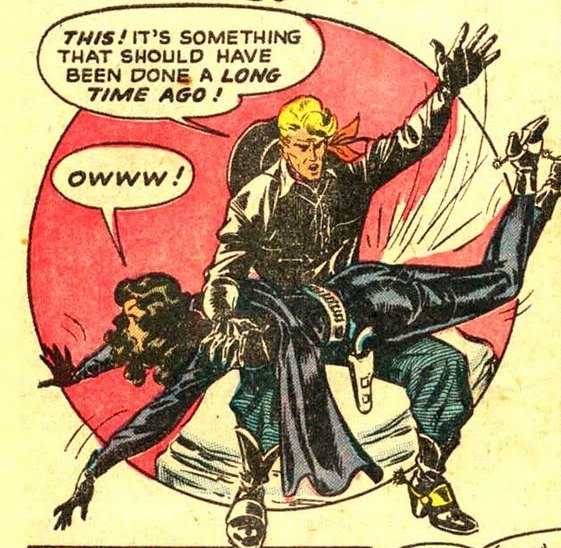 Posted by the Web-Ed on 05/28/2010
The Two-Gun Kid was pure Western, unlike the Western-Romance hybrids we've seen up until now - in fact, it was Marvel's first Western comic. There were really three incarnations of the title (1948-49, 1953-61, 1962-70), and the character also appeared in other Western titles, which makes it had to know exactly where this came from originally - DM Sherwood posted the spanking panel on Chross's Forum, and we later found the complete page somewhere else. We're now sure that it's from The Two-Gun Kid #5 (December 1948) with artwork by Syd Shores, who pretty much led the Marvel Bullpen back when there really was such a thing (until the early 50's). The story was titled, "The Rider of the Owlhoot Trail".
Below is the complete page. A girl named Kim Lewis has disguised herself as a male outlaw called "Black Rider". When the Kid unmasks her, he takes her by the hand and (we love this panel) she asks, "What are you going to do?" We'll give you three guesses, dear!
[06/05/2010 Note: after this page was first posted, we found another source (since disappeared) which had scanned the complete story. Armed with this new information, we made several corrections concerning publication date and artist details.]