<!- IMAGE ->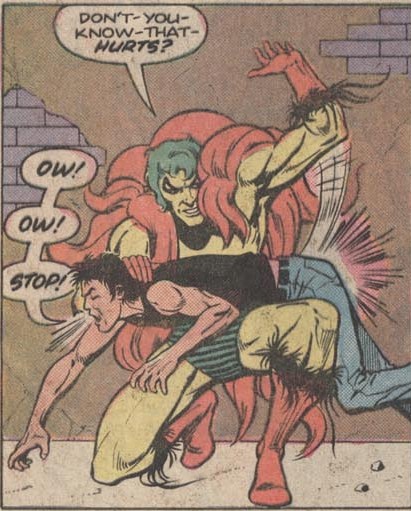 Now he knows! © DC Comics Inc. Posted by the Web-Ed on 01/22/2010
It could be argued that our previous entry from "The Weirdest Comic-Book Spankings of All Time" wasn't really all that weird because the two Punisher spankings took place within intentional parodies. No such weirdness-mitigating factor exists this time, however, as we turn our attention to a relatively obscure character, The Creeper. Created by Steve Ditko, arguably Marvel's second-best silver-age artist (in our estimation behind only Jack Kirby, which is saying something), The Creeper was always something of a square peg in the round hole of the DC Universe, but even so, this curbside spanking is a little strange.
First of all, would a super-hero really try to reform and/or punish some street punk by spanking him? And while we've touched on the subject before, it bears repeating that with the exception of fraternity paddlings, which can be explained as a mixture of immature macho posturing and drunken stupidity, there's something about adult M/M spanking that makes it seem unmistakably gay. It's not like F/F spanking, which could conceivably take place among girlfriends or sisters in a playful, innocent way (and does - see, e.g., this friendly Supergirl/Batgirl pairing). It's just something that straight men don't naturally do: guy/guy = gay/gay. And you really remove all doubt when you spank a good-looking younger man on a public street while wearing a green wig, red fur boa, and tight-fitting striped briefs.
As soon as we found this we were curious, to say the least, about where it had come from. The Creeper had his own book, Beware The Creeper for about a year (May 1968 - April 1969), but this panel could not have come from any of those issues because it isn't drawn in Ditko's style. The problem is that the Creeper was in so many one-shots and made so many guest appearances (1st Issue Special, Adventure Comics, The Brave and the Bold, Detective, etc.) that it's proved impossible so far for us to track them all down. The style is familiar and suggests the 1970's, but we can't positively identify the penciller/inker combination although we're sure we've seen it before.