<!- IMAGE ->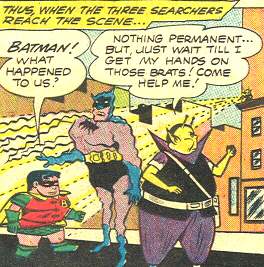 © DC Comics Inc. Posted by the Web-Ed on 01/22/2010
We conclude our series "The Weirdest Comic-Book Spankings of All Time" with this very weird example taken from Batman #137 (Feb. 1961) in a story called "Teacher From the Stars". Written by Bill Finger with art by Sheldon Moldoff and Charles Paris, this one's going to take some explaining. We mentioned earlier that Science Fiction really took off in the 1950's, becoming highly visible in comics, movies, and TV, and we have also discussed the decline of the superhero genre in postwar comics. Many previously popular super-heroes like Captain America and the Human Torch vanished completely from the scene (although some, including these two, were of course later revived in the 1960's), leaving Marvel without a single superhero title. DC's most popular heroes, Superman and Batman, continued publication throughout the decade, but the Sci-Fi influence on comics was pronounced and had a decidedly strange effect on Batman. The essential gritty darkness of the character, scarred for life by the murder of his parents and seeking to avenge them by waging war against despicable criminals, did not readily mesh with the robots, ray guns, and aliens of popular Science Fiction.
Here we see three alien brats have used some kind of ray gun to distort the appearances of Batman, Robin, and their teacher, Blish. What a crazy class field trip this turned out to be!
Some further discussion can be found at Comic Treadmill and Mike Sterling's Progressive Ruin.