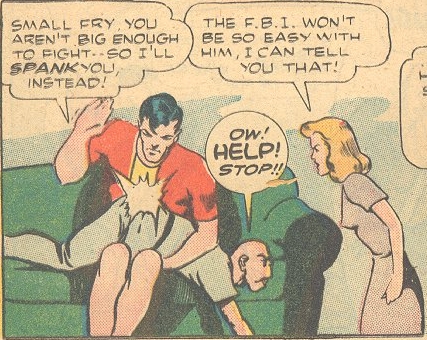 From Captain Future in Startling Comics #32, artist unknown. Published by Standard Comics. Posted by the Web-Ed on 10/29/2010.
We resume last year's Weird Spankings with a fresh series, beginning with Captain Future in Startling Comics #32 (March 1945). Ripping off the villainous Dr. Allirog's disguise, Captain Future sees that he's just a little guy: "Small fry, you aren't big enough to fight, so I'll spank you instead!"
Now, this theme popped up several times during Golden Age comics, and we wouldn't mind it so much if the villains were female - in fact, we wouldn't mind it at all! The noble super-hero, too chivalrous to strike the villainess with his fist, can and should take her OTK for a good bottom-warming. In fact, we've seen this happen several times (Buz Sawyer, Spirit/Huntress, Saint/El Kara).
But it's more than a little disturbing to see the hero do this with a male villain! First, the bad guys deserve a sock in the jaw, which is what super-heroing is all about, even if they're on the short side. Second, if you don't want to use your fists, then use a wrestling hold, Bat-cuffs, magic lasso, whatever - anything but a spanking! People will talk, you know.