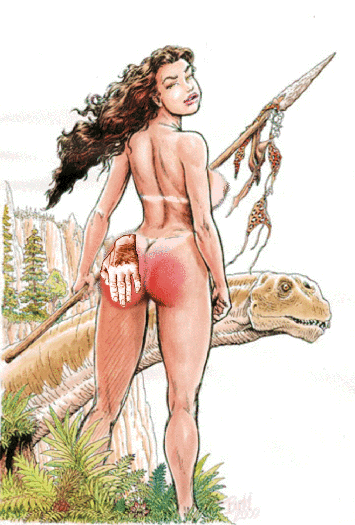 Posted by the Web-Ed on 10/07/2011.
Bud Root's celebrated cave girl Meriem has already been seen twice in this gallery (here and here). For her third appearance, Doctor Cylon decided to spank her bongo-style, a decision with which we cannot find fault: good animation and a nice red bottom leave us nothing to complain about.
Meriem is one of the most spankable girls in comics, which attests to Doc Cylon's good judgment and is also a tribute to Bud Root. Root is certainly one of the very best modern practitioners of Good Girl Art (GGA) around. Anyone can draw T & A, but it takes considerable skill to portray a woman as real and desirable as well as "stacked". Another time we'll go into the subject more deeply, but for now, let's just say it's the difference between Bud Root and Frank Cho on one side, and Mike Grell and Bill Ward (after his early period) on the other.