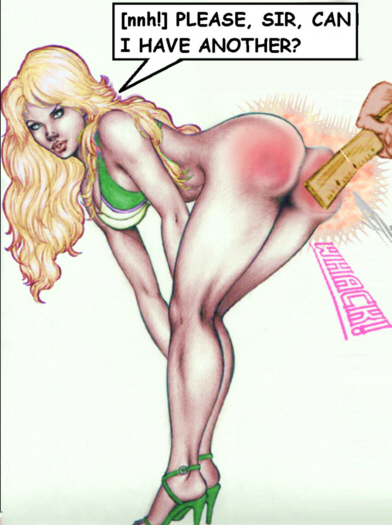 Original artist unknown, ruler, captions, and colors by Doctor Cylon. Posted by the Web-Ed on 05/18/2012.
We believe this one began life as a drawing of She-Hulk. Seeing the potential in her submissive posture, Doctor Cylon then added his ruler and gave her a red bottom (in two different ways, when you come to think of it). "Please sir, can I have another?" We sometimes require formulae similar to this when administering a paddling, not all the time and not for every swat, but by rubbing in the fact of the spankee's getting the swat it does have a nice humbling effect when used judiciously. Certainly our spankee here seems to have the proper attitude, either because she's very submissive natually or because she's been persuaded by having already received a large number of swats.
The good doctor obviously took particular pains with the shading - you can see an inner circular region on the left side of the target area that is characteristic of the results when a paddle is used (with presumably a symmetrical region on the other side underneath the ruler). That's one well-paddled young lady!