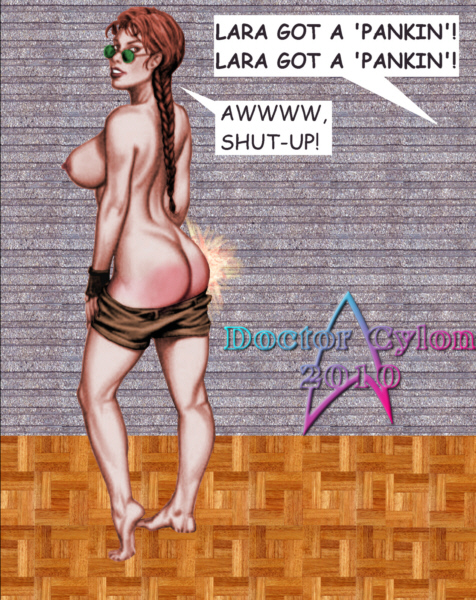 Of all the female figures in popular culture, none is quite so irritating to us nor so deserving of the spanking treatment as Lara Croft Tombraider. Honestly, we've never seen any of the movies except for little snippets on TV, but that's been more than enough. Her smug arrogance and questionable archaeological ethics just beg for the comeuppance that only a good spanking, paddling, or caning can provide. And it has nothing to do with actress Angelina Jolie, it's the character (for more on why we dislike her so much, see A Spanked Little Tombraider).
Evidently, Doctor Cylon feels the same way, for he has given us three examples of Lara getting her just desserts, two of which we see now in entry #4 of our Bottom-Broken Rulers series. First, he taunts her while her bottom glows bright: "Lara got a 'pankin! Lara got a 'pankin!" And she deserves both the 'pankin and the tauntin'!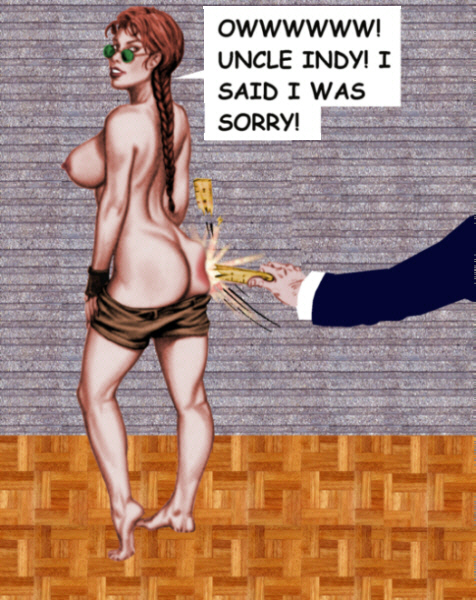 Next, "Uncle Indy" breaks a ruler across her behind as she protests: "I said I was sorry!"
Maybe you did, Lara, but you're not sorry enough - not yet, anyway! What better way to discipline a rule-breaker than to break a ruler on her?