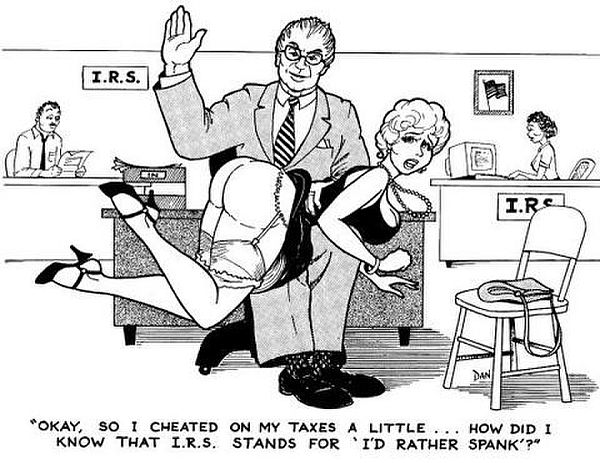 © Dan Rivera. Posted by the Web-Ed on 04/09/2010
It's Tax Time again, when the IRS turns each of us upside down and shakes out as much of our hard-earned money as possible. Now we all know the penalties for cheating on your taxes are severe (unless you're a member of the current administration), but it seems this young lady decided to take the chance. Having been caught, she must pay the penalty - which in this case is not simply a percentage of the tax owed! Actually, spanking (female) tax cheats would certainly relieve the clogging of the Tax Court calendar (much the same way that spanking female speeders would clear up the Traffic Court calendar), so we can't understand why this particular reform has never been implemented.
Dan Rivera did this cartoon a few years ago, and it shows his trademark simple lines and good OTK positioning. He also posted it recently on Chross's Board. Dan has generously given us permission to reprint some of his cartoons, and we will certainly do so in the months ahead as we finish up some of our previously-scheduled series.
Previous Entry

Next Entry