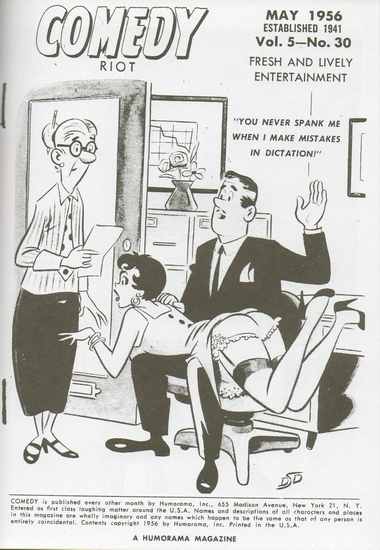 posted by the Web-Ed on 04/16/2010
In honor of Secretaries Day later this week, let's conclude our Spanked Secretaries series (at least until we find some more examples) with another one from Dan DeCarlo, who as we all know signed his cartoons DSD (for his given name, Donato Salvatore DeCarlo). This one's a classic - in fact it may have been the first of DeCarlo's many spanked secretaries - but we had misplaced our copy, and then luckily we came upon this version, which identifies the first appearance of the cartoon. It is the splash page from Comedy Riot (May 1956), one of the many Humorama digests which were the home for many of the spanking cartoons in this gallery.
We promised last time to take up the question of whether these "non-consensual" spanking cartoons could be justified. The subject proved difficult enough, however, that we decided to explore it at length in our essay on SP Anka's work, so only a short treatment will be given here. Despite the presence of a second secretary, the humor in this cartoon is very similar to that of the preceding entry: the boss revels in finding an excuse to smack the bottom of his attractive secretary, and that's all it is - an excuse. This flimsy charade stands revealed by the older secretary's puzzled exclamation that "You never spank me when I make mistakes in dictation!" Nonetheless, the reader is encouraged to identify with the boss. It's as if DeCarlo is saying, "Come on, you'd spank her too if you had the chance, and where's the harm?"
And really, we're inclined to rule "No harm, no foul" here as a little spanking isn't going to hurt her - much. It's not as if she were about to get a heavy caning. Besides, although the secretary looks surprised, she doesn't seem entirely unwilling. We've said this before, but even in the good old days when spanking discipline did occasionally take place in the office, we believe that the women who received it accepted it willingly (hence the quotation marks around "non-consensual" above). How do we know this, you ask? We're going to have to take the Fifth Amendment on that one, at least until the statute of limitations runs out! Of course, nowadays it would be unwise to behave the way this boss does - the older secretary might very well sue him for age discrimination.