<!- IMAGE ->
<!- IMAGE ->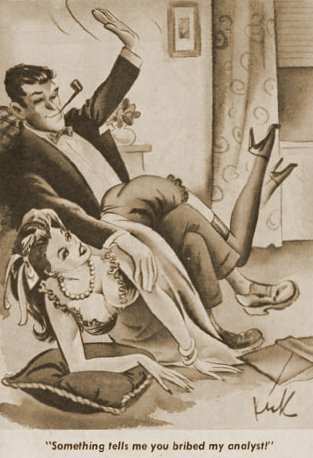 A little gem from Kirk Stiles, this one has his usual trademarks, plus an extra joke. The woman is very attractive in a sultry way, and suggests that she's not exactly averse to getting spanked: "Something tells me you bribed my analyst!" The implication is that she had confessed her secret spanking desires to her doctor. Also, she appears to be pretty relaxed and comfortable over the man's knee. Compare this to the young wife getting spanked by the marriage counselor , or the lady making the bad pun , and you'll quickly see the pattern.
Now for the extra joke: take a close look at the man giving the spanking, and you'll see it's none other than a young-looking Hugh Hefner, complete with pipe and evening clothes! (Find an old tape of the short-lived T.V. series "Playboy's Penthouse" if you don't believe us). Although he wasn't into spanking (we'd have heard about it if he was), "Hef" was a great friend to cartoonists, buying many of their works for Playboy magazine and paying top rates. These cartoonists ranged from the relatively unknown to prominent figures such as Jack Davis, Jules Feiffer, and Jack Cole. As Stiles did here, they would occasionally model one of their characters on Hefner as an inside joke.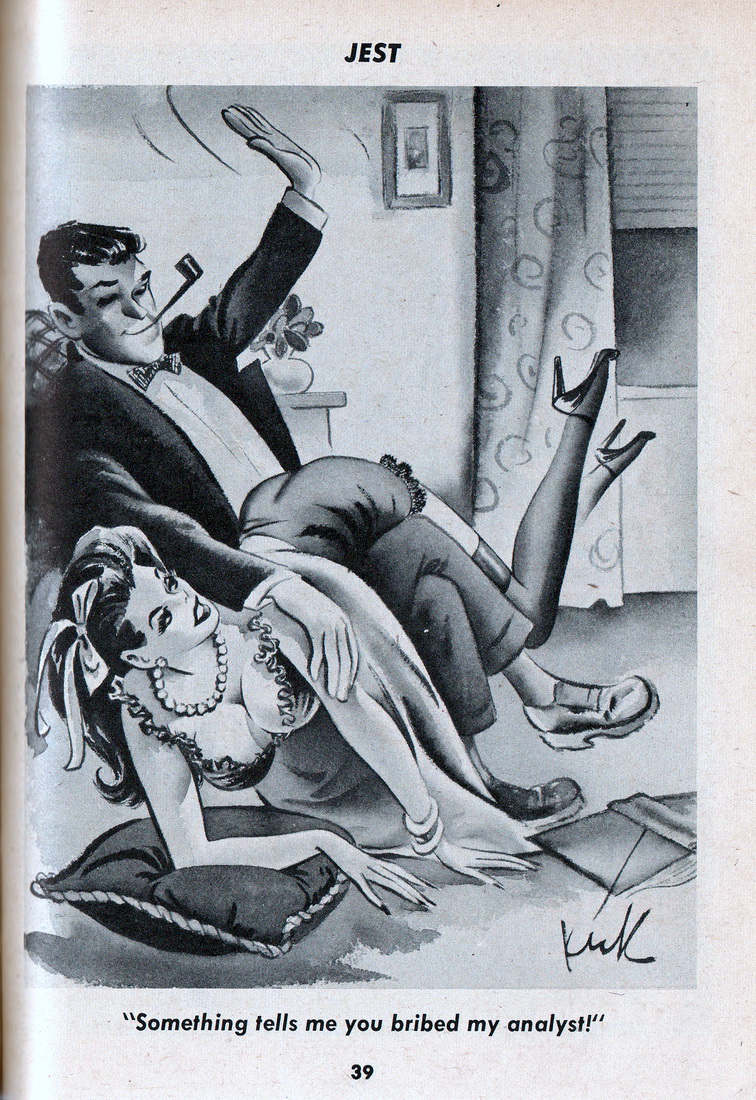 From the Sept. 1959 issue of Jest. From the collection of and posted by the Web-Ed on 06/15/2012. (Click to double-size).
06/15/2012 Update: We were able to locate this cartoon's first appearance in Jest (Sept. 1959). It may or may not be the same as the one above, whose publication details remain unknown. Stiles endows our satisfied spankee with a lovely face, generous bosom and clingy cami-knickers, all usual trademarks. "Hef's" cross-legged position would be uncomfortable for an extended spanking, but this is lovely work.