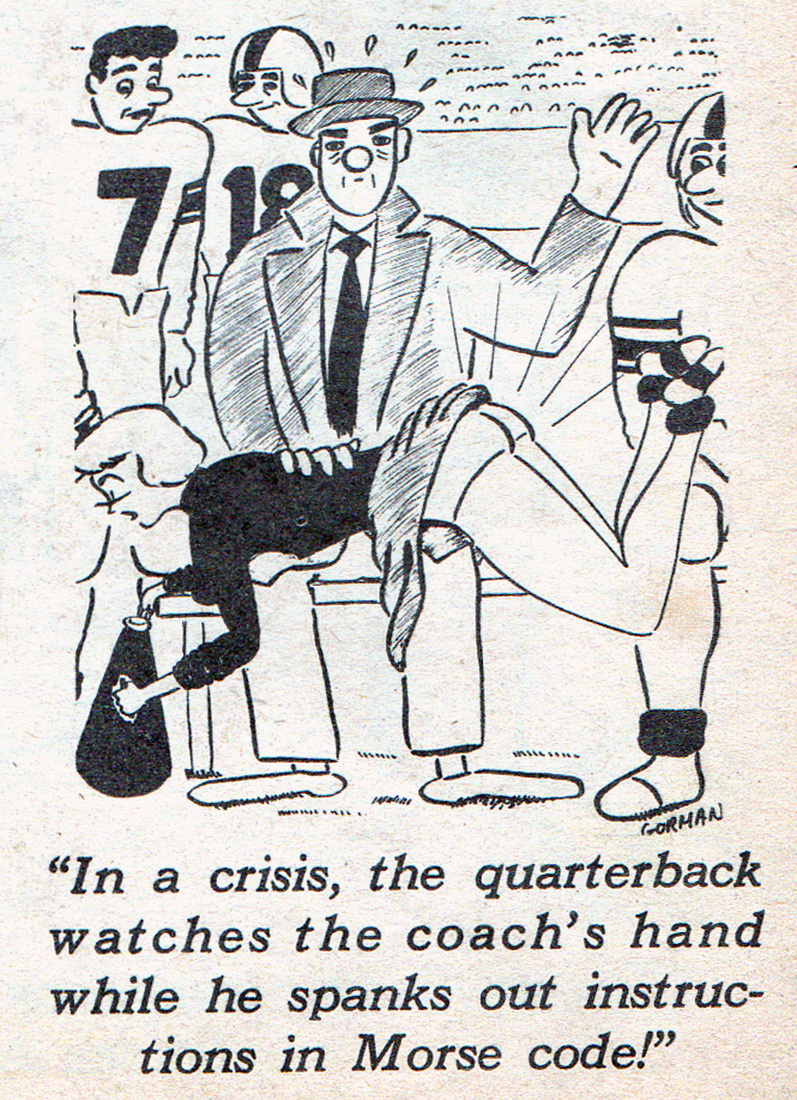 She's over-the-knee, but just barely, in Gee-Whiz (March 1957). Printed at quarter-page size, which is why the caption is so comparatively large. From the collection of and posted by the Web-Ed on 03/08/2013 (click to double-size).
This was a very late addition to our Humorama collection which is why it's being presented after all the other "one-off" spanking cartoons, but it appeared rather early, in the March 1957 issue of Gee-Whiz. Mike Gorman, while an infrequent contributor to Humorama, seems to have been able to eke out some sort of vocation at the margins of the humor cartooning business. We found a couple of his generic humor efforts on the 'net without too much difficulty. Gorman apparently didn't specialize in girlie cartoons as so many of the best Humorama artists did, for the spankee here is not particularly curvaceous, but she does have the distinction of being the only cheerleader (as far as we know) to be spanked within the pages of the Humorama digests.
While we're on that subject, cheerleader spanking is certainly a popular motif in relatively recent spanking pictures, stories, videos, and even art, but this seems a modern development for some reason. Except, that is, for Gorman's effort here. Perhaps the imaginations of The Big Five (Bill Ward, Bill Wenzle, Kirk Stiles, Dan DeCarlo, and Homer Provence) simply weren't stimulated by cute cheerleaders the way they were by comely secretaries and luscious nurses. And it is rather difficult to come up with a cheerleader gag - Gorman seems to be making a sort of play on the idea that in a crisis, the quarterback looks to his coach for signals, but this doesn't come through too clearly, nor does it lend itself particularly well to humor. Interestingly, the cheerleader looks neither happy nor unhappy but instead rather contrite, as if she believes she deserves to be spanked for something she's done. We'll accept her judgment on that!