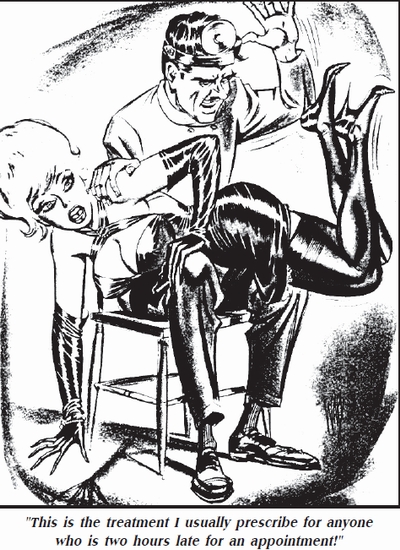 Posted by the Web-Ed on 10/21/2011 (click to double-size).
Several times we have seen cartoons in which a psychiatrist spank his female patient, a kind of "tough love" humor that says in effect, "There's nothing really wrong with you except self-indulgence, which this spanking will cure rather nicely." Here we see a G.P. spanking his patient merely for her sin of tardiness - character therapy, you might call it. Decent OTK positioning from Bill Ward, although something about the drawing is a little off - perhaps it's the chair seat below knee level.
We have a strange sense of deja vu with this one, which we believe came from the collection of Jeff Patton - we've seen it before, but can't place where it was exactly.