Of the Humorama "Big Five" spanking cartoonists, Bill Wenzel probably showed the most variety in the types of gags he used. The need for discipline in a Muslim harem is a rather unique peg to hang a spanking cartoon on, and we have never seen it used any place else, probably because its basic substance isn't strong enough to bear numerous variations the way the Secretary Spanking (also thought to be a Wenzel invention) is.
"You must realize that since we joined the U.N., the boss hasn't time for everything!" [i.e., to do everything himself?]. If we've got that right, the gag reduces to the Sheikh sending a deputy to do the necessary spankings in his harem - as we said, it's pretty thin, but of course it was difficult for Wenzel and the other Humorama cartoonists to keep coming up with new ideas for "spankers" during the peak of the demand for them. And in Wenzel's defense, while we probably wouldn't see too many attempts at harem-humor nowadays, at the time there were other non-spanking cartoons in magazines like Playboy thet used this setting. The OTK positioning is fair at best, with the harem girl sliding forward off the lap of the spanker, who seems to be using both hands bongo-style.
We haven't seen this one around before, so we're going to claim it as another CSR exclusive. This version came from the April 1968 issue of Stare. We believe it to be the cartoon's third appearance, with the second having been in the January 1963 Jest.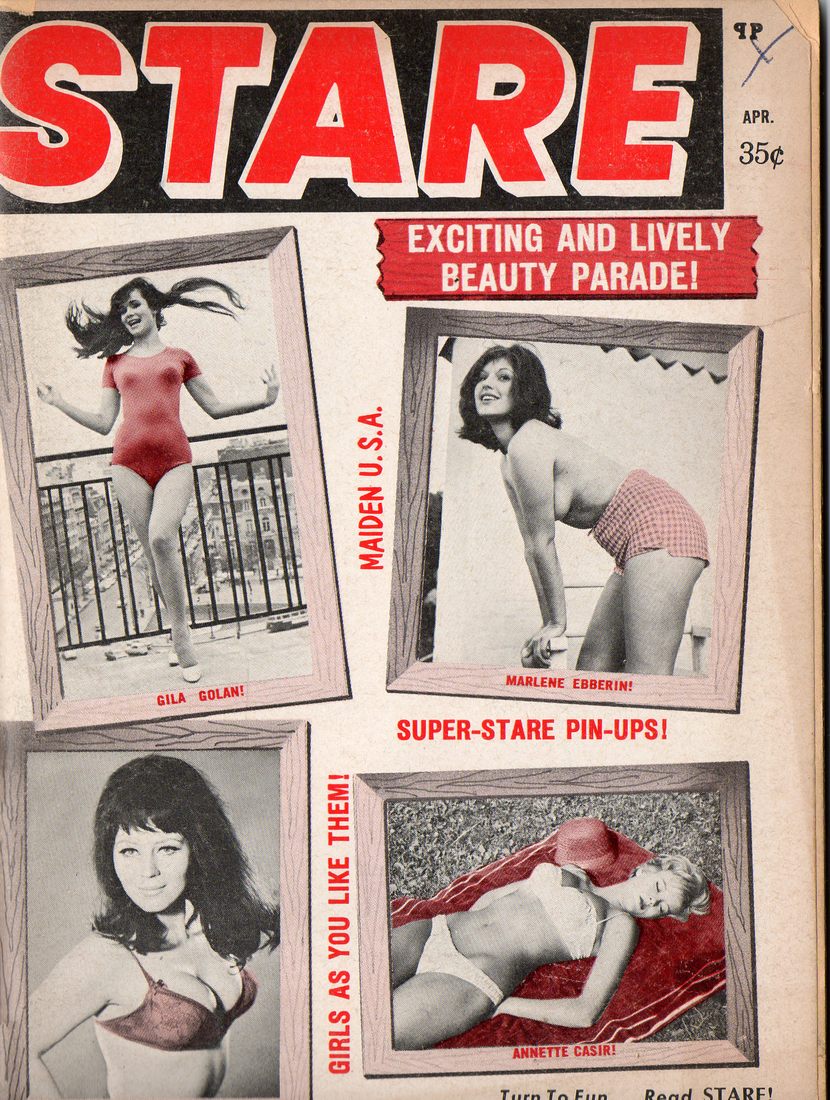 April 1968 Stare (click to double-size)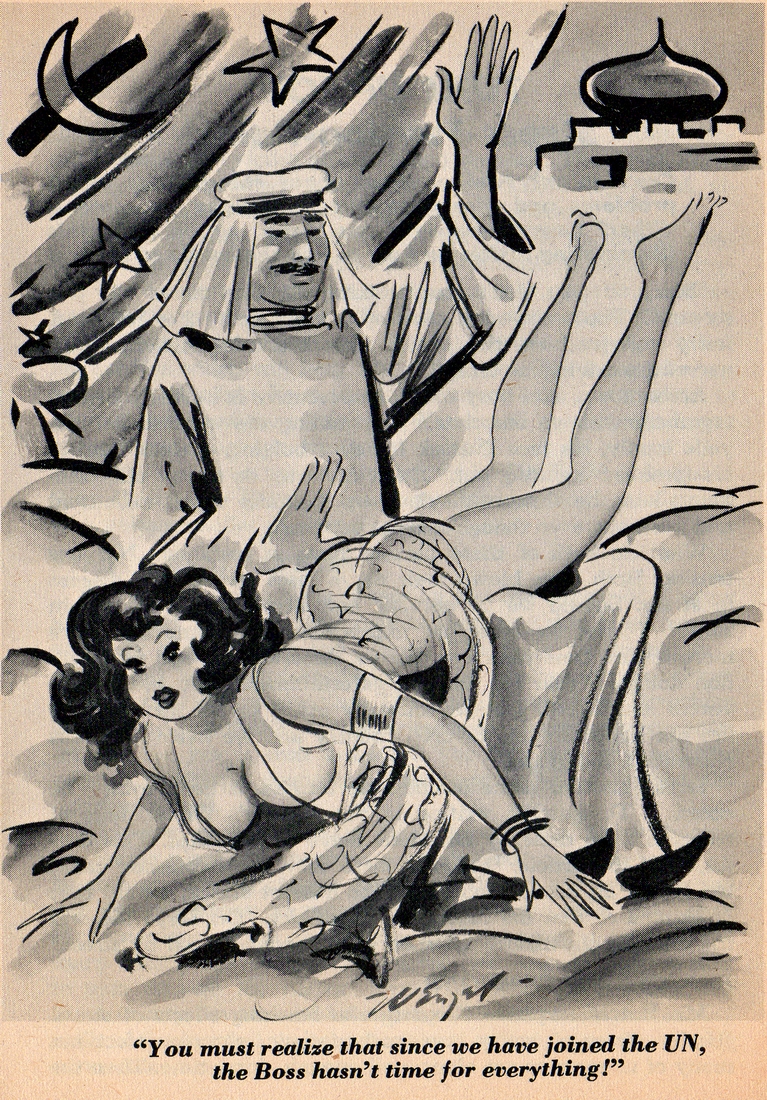 From Stare (April 1968); Web-Ed's collection. Posted on 12/16/2011 (click to double-size).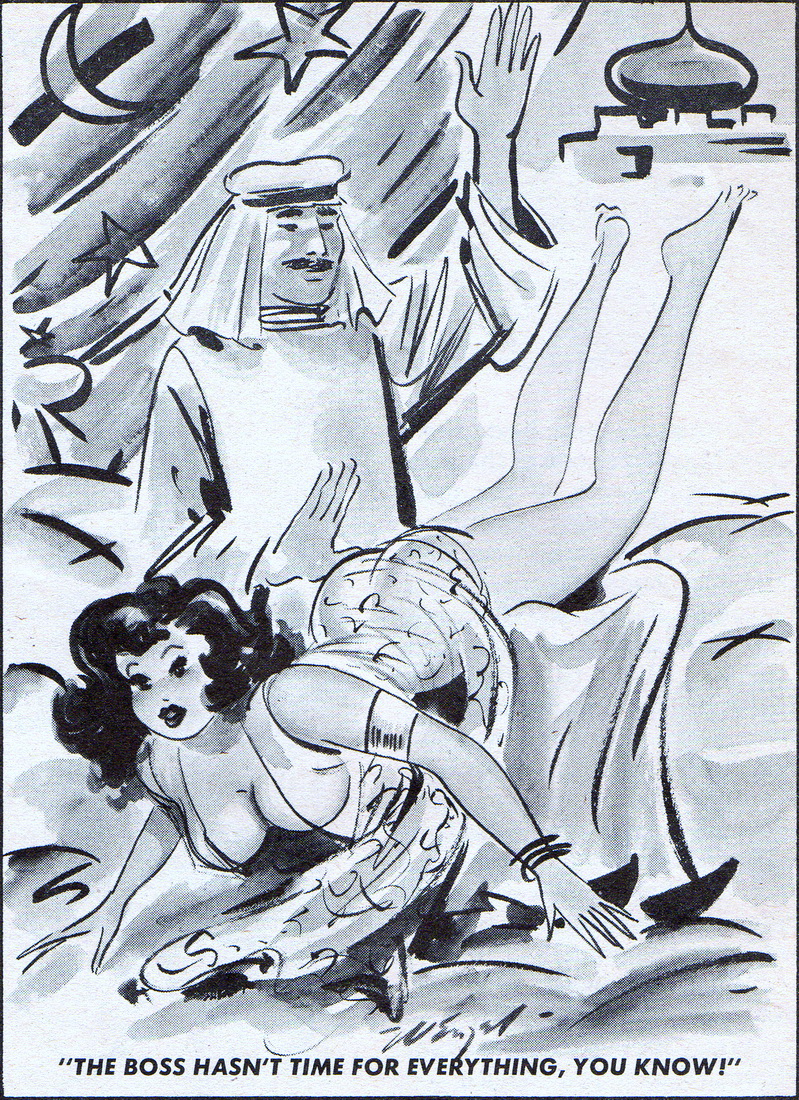 From Humorama (July 1957); Web-Ed's collection. Posted on 02/22/2013 (click to double-size).
02/22/2013 update: We recently discovered the first appearance of this cartoon in the July, 1957 issue of Humorama, the "flagship" title of the Humorama line. It really wasn't much of a flagship since it was a full-size magazine that wasn't a prototype for the successful digests that made up the bulk of the Humorama line, coming years later, and it didn't last long. Popular Jokes, a few years after Humorama, did better.
The original gag was basically the same as the later one except there was no reference to the U.N.