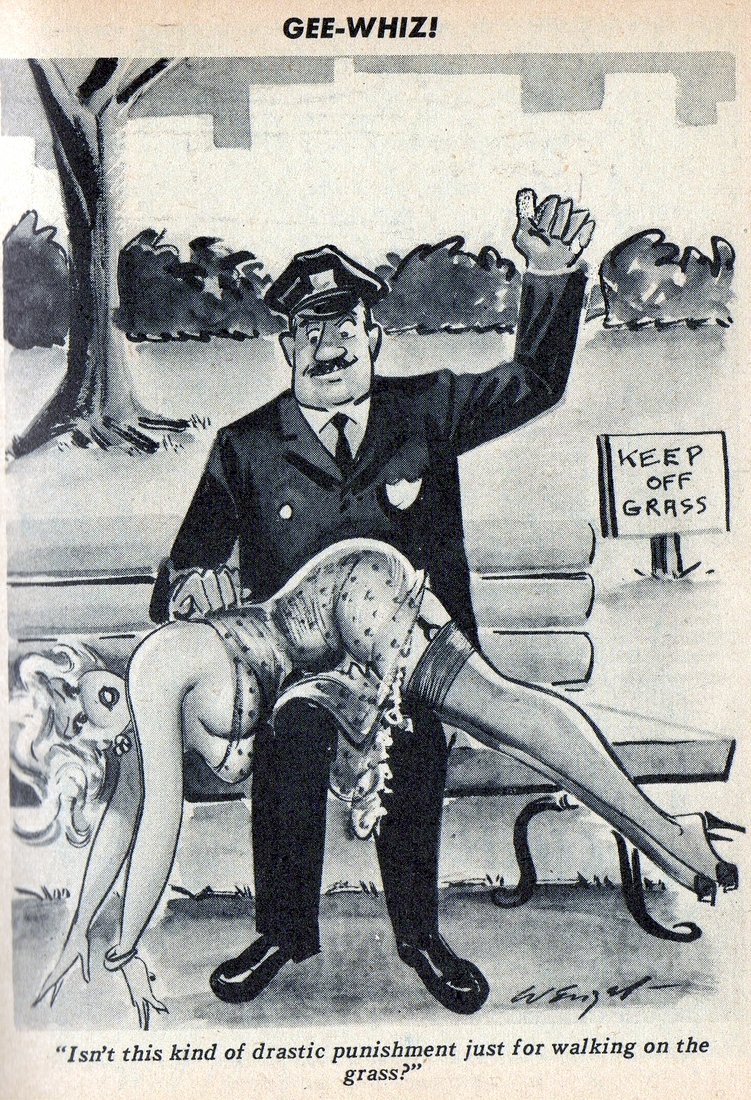 From Gee-Whiz (September 1956); Web-Ed's collection. Posted on 12/09/2011 (click to double-size).
What should we do with a young woman who blatantly flouts the law by ignoring a "Keep Off The Grass" sign and tramples all over the greenery in a city park? If you're like us, your answer is "Spank her!" And that's just what one cop does in this Bill Wenzel cartoon. Although we had seen it in "The Pin-Up Art of Bill Wenzel" we had no publication details until recently when we added the September 1956 issue of Gee-Whiz to our collection, and it is that version we see here in another CSR exclusive.
This is still early in Wenzel's spanking cartoon catalogue, having been drawn probably less than a year after he did his first one, but despite the fact that he hadn't been doing "spankers" for very long the "cop spanks female lawbreaker" gag works well (Dan DeCarlo did three cartoons with this theme also) and we have good OTK positioning with her hips centered on his lap and a 90-degree bend at her waist. The spankee's attitude is of interest - this is one of the times that Wenzel has her express some mild doubts about the fitness of the OTK treatment, but in the end she complies without making any real fuss.
Dan Rivera noticed something about this drawing:
"To me, it looks as if his hand is closed as in a fist, rather than open and prepared to spank. Maybe the original toon had him holding something, like maybe his night stick? As I say, it's puzzling. This can not be the original version. He is spanking the girl with his fist? Not likely. And there's something wrong with the way his thumb is depicted, also. It looks as if he's wearing a thimble... though of course, no one wears a thimble on their thumb."
Phil (Overbarrel) agrees that Dan is on to something, and so do we. The questions are, what was changed, and when? We think that since most cops don't carry hairbrushes around with them, Dan's suggestion is the most likely one - it was a night stick in the cop's hand. Perhaps Abe Goodman felt this was too violent, and indeed a billy club is not a suitable spanking implement. In fact, when Dan DeCarlo did his cartoons with very similar themes (which we'll see later in this series), he had the cop use his open hand, and this was probably after the Wenzel cartoon had appeared. But what could Goodman do? Our guess is that with 5 or 6 Humorama titles being published every month, he was under such pressure to get the books out that he didn't have time to send the art back through the mail to Wenzel for correction.
We think Goodman would have had the original art altered, but by whom will probably remain a mystery forever. It's not likely that he would have walked it over to the Atlas (Marvel) offices, because in 1956 Atlas was barely hanging on by a thread and the old Syd Shores-led Bullpen was no more. It could have been an assistant, if he had one. It could even have been Goodman himself, since the alteration isn't very good and as far as we know he couldn't draw.