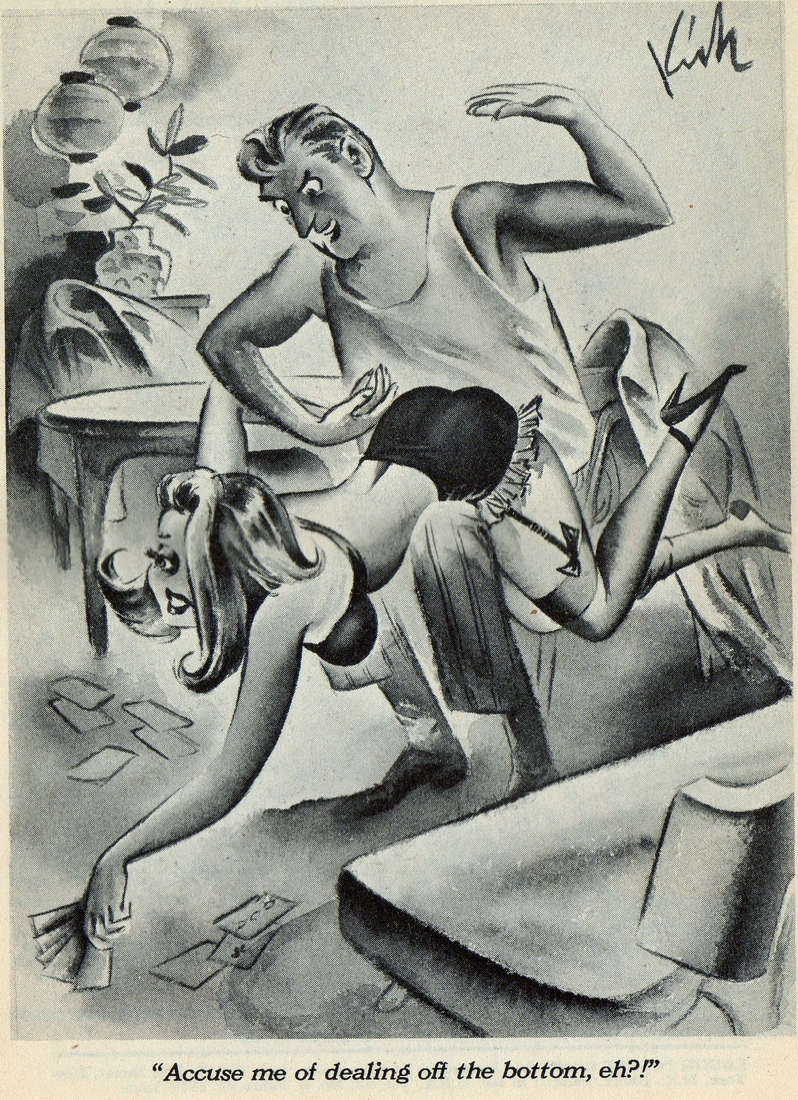 Art by Kirk Stiles, from Laugh Digest Vol. 13 No. 6 (February 1968, Mike's collection). Scanned and posted by the Web-Ed on 02/17/2012 (click to double-size).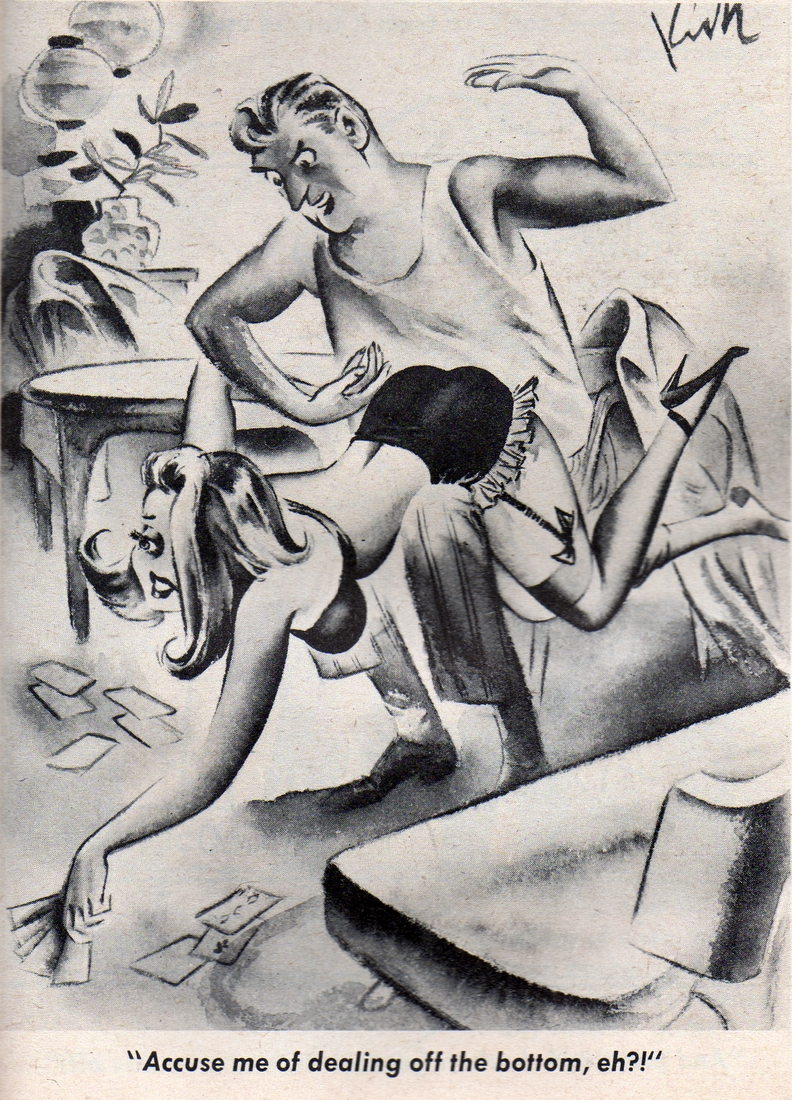 Art by Kirk Stiles, from Jest (May 1960, Web-Ed's collection).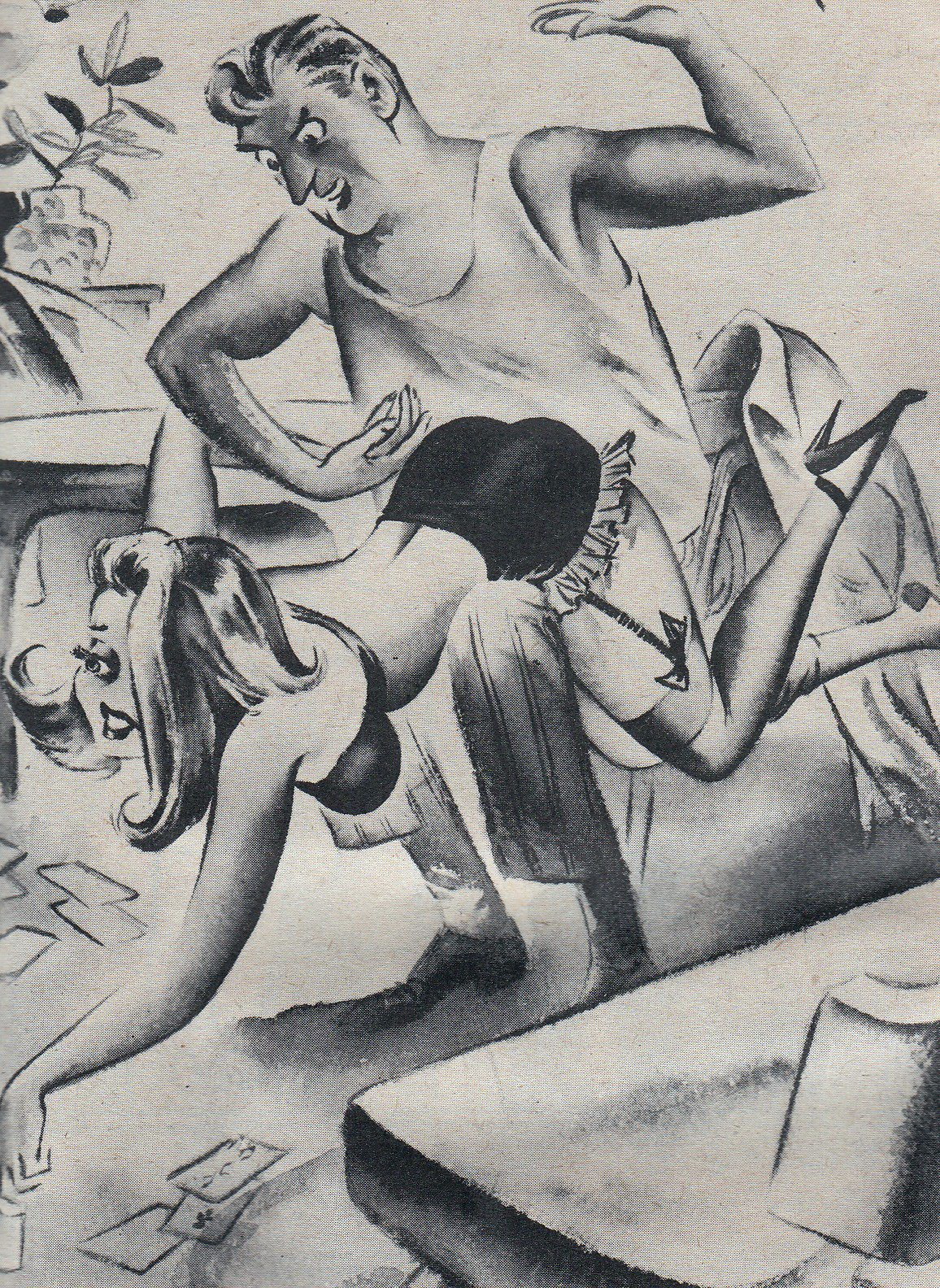 Art by Kirk Stiles, source and scanner unknown.
Three versions now of this one by Kirk Stiles, in which a friendly game of cards leads to a spanking! It seems the young lady accused the gentleman of dealing from the bottom of the deck (everyone knows that's an old method of cheating at cards, right?). We're not sure what the game was here - since the young lady is holding five cards and was already down to her underwear before the spanking began, it may have been strip poker - but this will teach her not to make such wild accusations. Actually, the gag would probably have been better had she been caught dealing from the bottom: "For dealing off the bottom, you get a spanking on the bottom!"
Above left is a version we scanned from Mike's collection. It came from the February 1968 issue of Laugh Digest. Although the caption's wording is unchanged, this cartoon is clearly not the same as the one above right, which we took from our own copy of Jest (May 1960) and which also had three other "spankers". This would have been the cartoon's first printing. At left is an unknown scan which appears to have been taken from one of the printed versions rather than the original art even though there is no caption.
The OTK positioning is fair, with a good amount of bending at the waist and, rather unusually for these Humorama cartoons, the spankee's right hand being restrained behind her back by the spanker. The problem is that instead of being across his lap, she's oriented at an almost impossible angle, as if she were facing away from him! Also, Stiles gave her too-short, rather flat buttocks (where once again the backs of the thighs project further to the rear than her rear), and the waistband of her cami-knickers is pulled up to about the middle of her stomach.