The Humorama spankings took place in a variety of settings - the home, the doctor's examination room, and of course the office where many a secretary ended the work day with a sore bottom - but they were typically indoors. This time, Kirk Stiles lets some fresh air into the scene with a spanking on a park bench. It isn't at all clear why this spanking is taking place - the caption makes no sense - but it's a good piece in several ways.
The spankee has Stiles' trademark cami-knickers and tiny feet, and also has a nice, full bottom - something that Stiles often failed to provide. One reason for that is that he often preferred to show the spankee's face by having her look both straight ahead and roughly in the direction of the camera. This required the camera to be more to her front, from which angle her rear was not directly visible. Stiles also had the bad habit of bulging out the thighs and shortchanging the buttocks, but he avoids both faults here and we can enjoy looking at a nice, full target! He also does a good job on the background, more detailed than Dan DeCarlo's and more atmospheric than those of Homer Provence.
We had never seen this one before Mike turned over his collection to us, but later on we saw that Collector108 had posted his copy in a photo album, so we can't claim this as a CSR first. Still, it probably has not been seen before by the majority of CSR's readers, whom we hope enjoy this little romp in the park. It probably first appeared around 1959; the version at left is from the June 1966 Laugh Digest.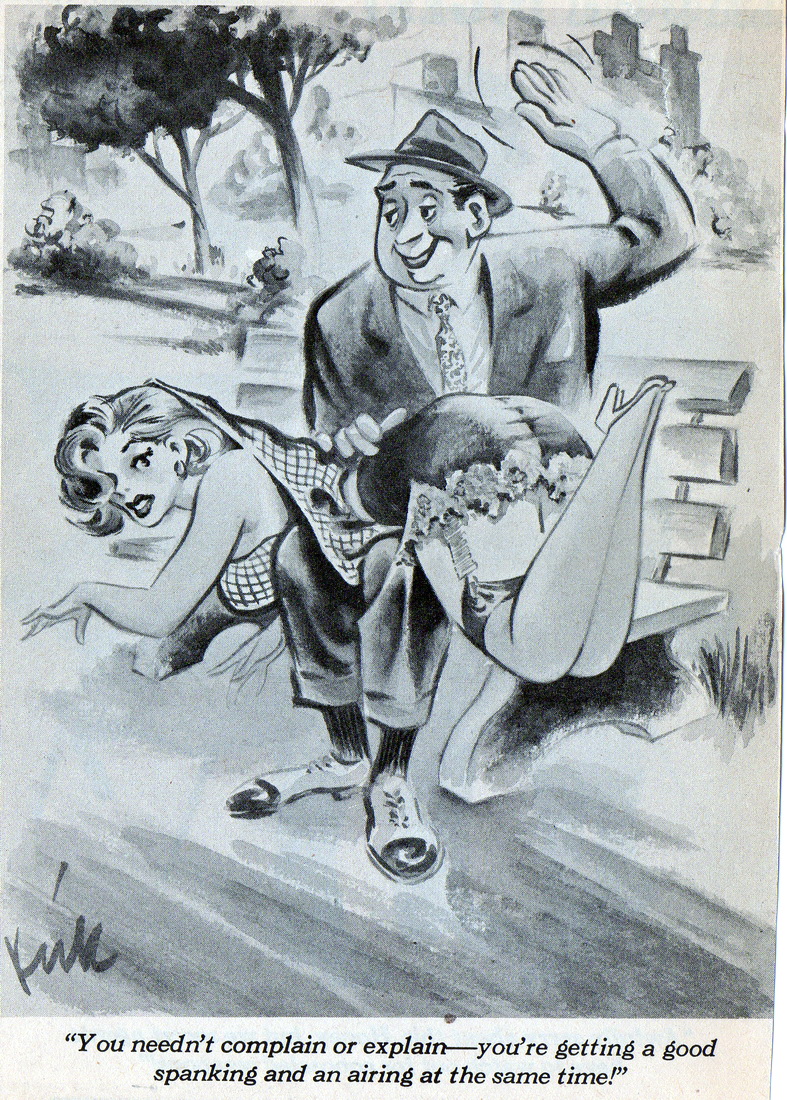 From Laugh Digest #74 (June 1966, Mike's collection). Scanned and posted by the Web-Ed on 06/22/2012. Click to double-size.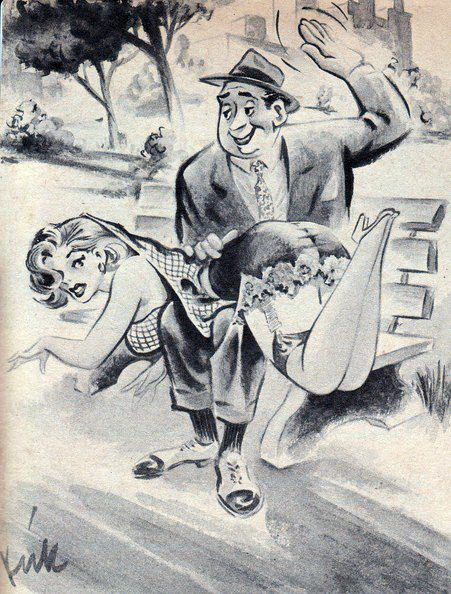 From Collector108, possibly reproduced from the original art since there is no caption. Click to increase in size.