The Wolf Book Mascots, Nick, Zippy, Packy, and Tessie.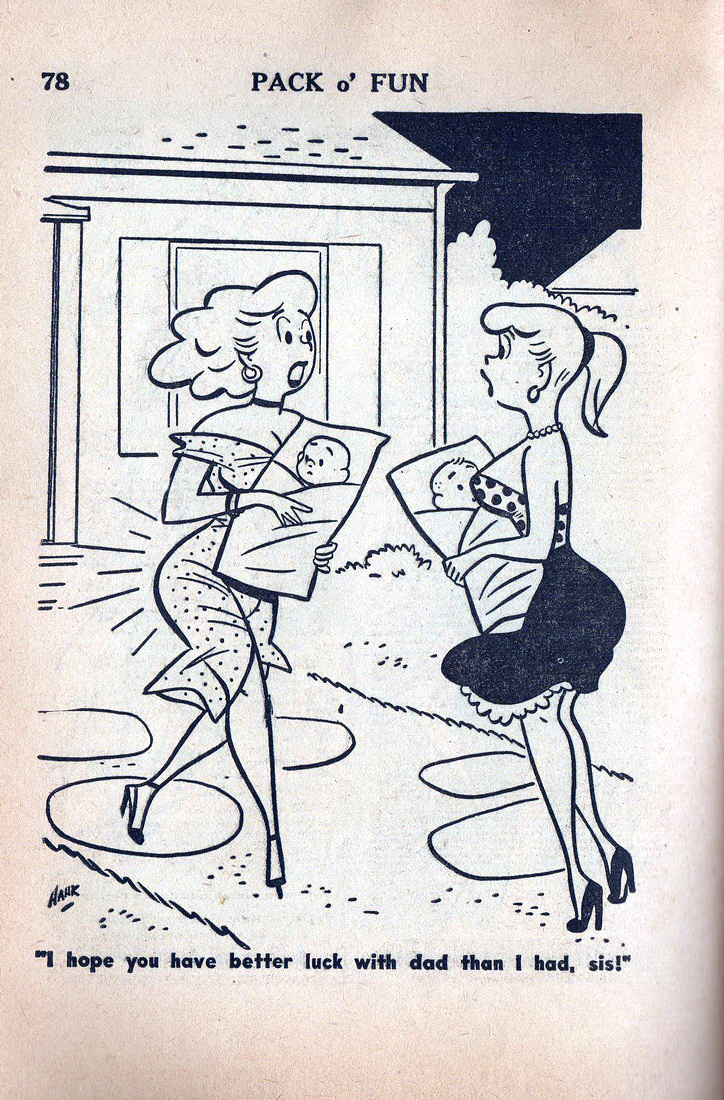 Art by Hahk(?) - it's hard to read the signature. From the January 1955 issue of Pack O' Fun. Posted by the Web-Ed on 04/15/2016 (click to double-size).
We come now to the fifth entry of our mini-series on the Wolf Books and the first of two featuring Pack O' Fun. This is an after-the-spanking scene in which one sister with a new baby tells another, "I hope you have better luck with dad than I did!" Not a bad gag, and this is the only time we have seen it used in a spanking cartoon. True, there's no OTK position as we would like, but remember it's still the beginning of 1955, several months before the first known OTK humor cartoons - both secretary spankings, by the way. Unmarried girls of this era who brought home a baby were certainly subject to parental disapproval, in our estimate more likely a talking-to from their mothers rather than a spanking from their fathers, but the latter is certainly deserved.
The artist's signature is hard to read but looks like "Hahk". We don't know anything about him and he does not appear to have been a frequent contributor to either the Wolf Books or to Humorama. However, there is something familiar about his style, and it's possible he's using an alias here as some girlie cartoonists did, e.g. Herc Ficklen and Frank Beaven.
Pack O' Fun's mascot, Packy Phunn, is absent, but we'll see him next time as he indulges his habit of whacking a pretty girl's behind.