The Wolf Book Mascots, Nick, Zippy, Packy, and Tessie.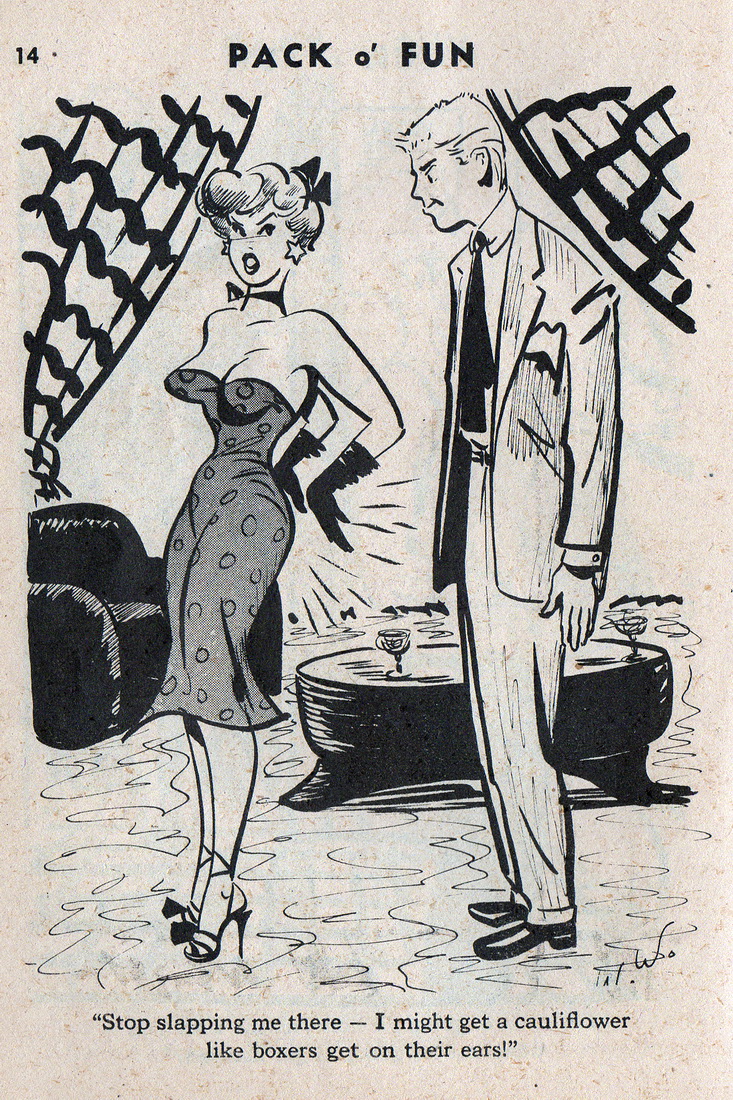 Art by Bill Wenzel. From an unknown issue of Pack O' Fun. Posted by the Web-Ed on 04/22/2016 (click to double-size).
We come now to the sixth entry of our mini-series on the Wolf Books and the second of two featuring Pack O' Fun. This is the only time we've seen one of the mascots involved in the spanking, for apparently Pack O' Fun's mascot, Packy Phunn, just can't resist whacking the spankee's behind. We can't blame him, but her objection is that it might give her a "cauliflower" there (after "cauliflower ear", a deformity which can happen to boxers or others if they take a blow on the ear). Why Wenzel didn't use the obvious term "cauliflower rear" is a mystery; as we'll see below, his fellow Wolf and Humorama artist Gerald Green did just that in another cartoon. By the way, in case anyone is getting worried at this point, which would take all the fun out of the gag, the physiology of the buttocks is such that you cannot give your spankee a "cauliflower" there (no cartilage) - just remember to play safely, especially with implements.
As we've mentioned, Bill Wenzel did all the Packy cartoons (his early "W. W." signature is hard to see). His style is certainly fully-formed here, but we note that his spankee is not quite as "zaftig", or pleasantly plump, as his later girls were. In the Wenzel art we've seen from his early days (late 40's to early 50's), the girls were even slimmer than this one. Some positives here are the expressions on the two characters' faces and the spankee rubbing her bottom with both hands - must have been a good swat, Packy!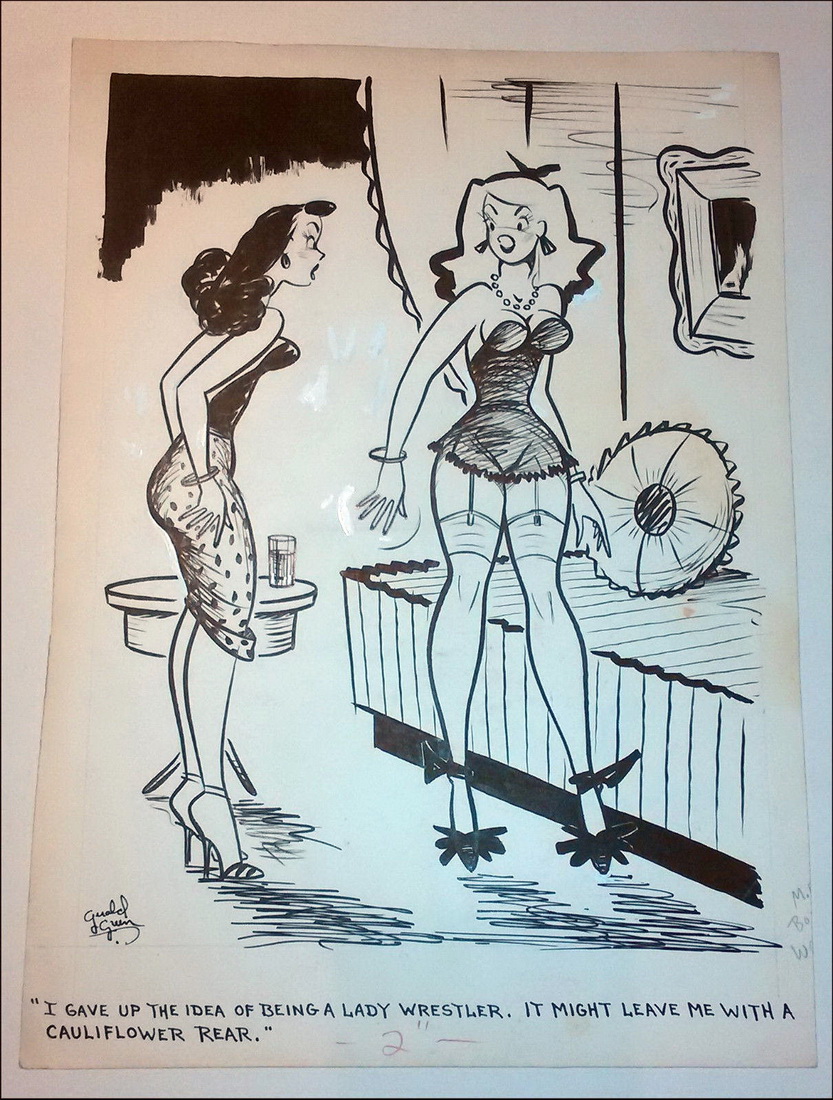 Art by Gerald Green. This is the original art; where it was published is not known (click to double-size).
Here is the Green cartoon we mentioned above. One girl tells another she gave up wrestling so as not to develop a "cauliflower rear". We don't know where this cartoon was published, but if it was in any of the Wolf Books Wenzel could certainly have seen it there.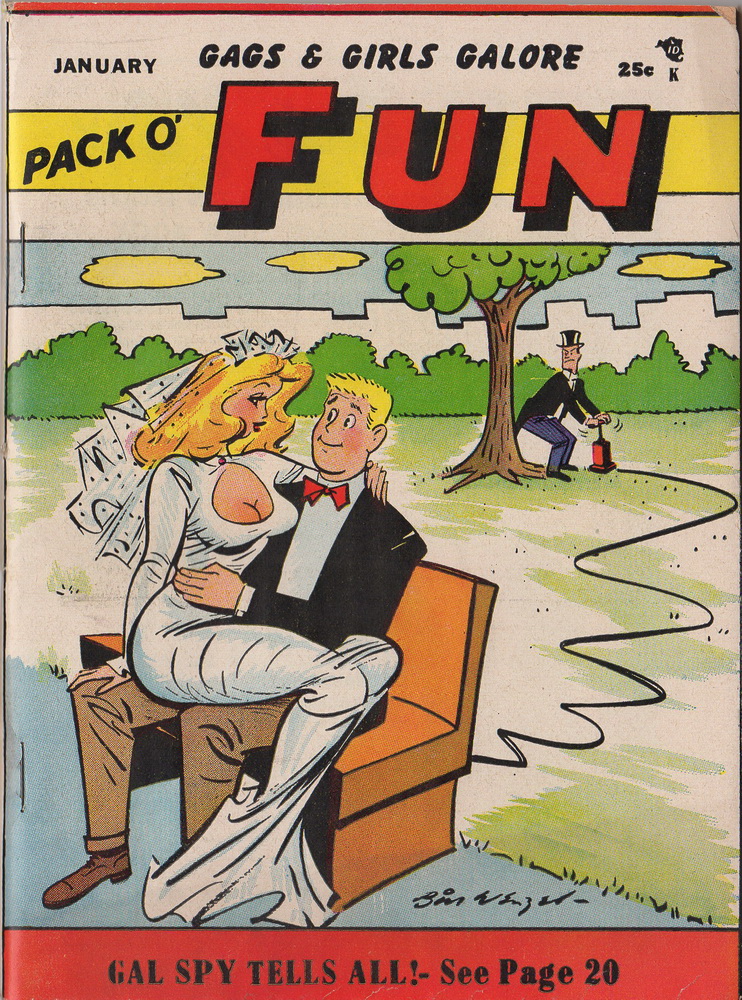 The cover of the January, 1956 Pack O' Fun. Art by Bill Wenzel (click to double-size).
Just again for the purpose of getting the "feel" of these books, here's the cover of the January, 1956 Pack O' Fun. As usual, the mascot is on the cover - here, Packy has gotten himself in trouble by making out with the bride on her wedding day. Looks like it will prove an explosive relationship.