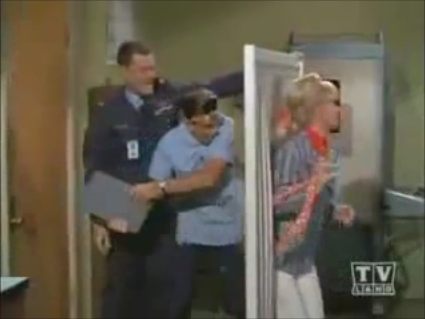 Dr. Bellows unwittingly takes aim for Jeannie's rear with his clipboard.
We remember I Dream Of Jeannie back in the late 60's, and certainly gave some thought to spanking Barbara Eden at that time (by the way, you can see her spanked by Eric Fleming on an episode of Rawhide), but we haven't seen the show since although it's been in continual syndication. We vaguely recall this scene, which was brought to our attention by the ever-alert Robin. We think what's going on here is that Dr. Bellows (Hayden Roarke) is trying to take a blood sample from Jeannie (Barbara Eden), who is trying to evade the test because it might reveal that she's a real genie.
Tony (Larry Hagman) is trying to distract Dr. Bellows by telling him there's a bee flying around. Dr. Bellows then tries to swat what he thinks is a bee, and since this is a silly slapstick scene that might have come from Vaudeville, he unwittingly aims his clipboard right for poor Jeannie's fanny!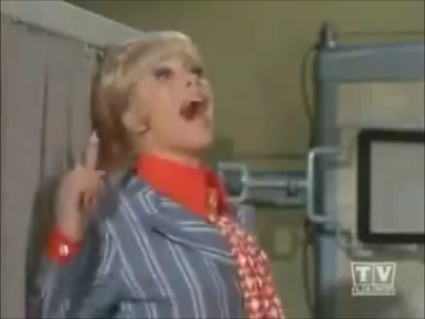 YEE-OUCH! If only this were as real a swat as Barbara Eden makes it appear.
As we mentioned on the Rawhide page, as silly as it was I Dream Of Jeannie was helped by the expert performances of the four principals, and you can see that in this scene. Despite having almost no playable dialogue, Eden, Hagman, and Roarke nonetheless manage to carry the scene forward for several minutes, which we have edited down to the absolute minimum necessary. It looks like Roarke, who couldn't see the target through the screen, was accidentally aiming too low. Because the director cut from one camera to another right at the critical moment, it's probable that the two shots were made at different times and that Eden didn't actually receive the swat, the sound of which may have been dubbed in later.
Even so, you can see from this still we extracted how well Eden simulates feeling the sting, and it's fun to imagine that she really did!