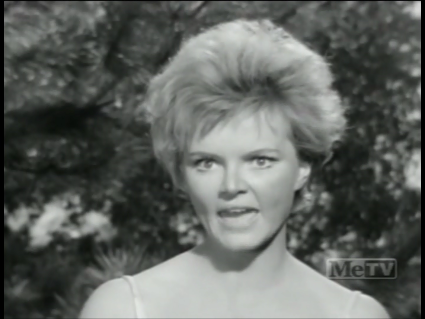 Erica Rogers playing a wealthy, spoiled brat and our spankee-to-be.
Although younger people today (2014) are probably unfamiliar with the character Simon Templar, The Saint (as he was known from his initials "ST") was the leading man in a number of books, radio shows, movies, and five(!) television series. There was even a Saint comic book, the 5th issue of which has a spanking - in fact, one of The Seven Spankings which were the only ones generally known back in the old days of searching for spankings in the comics.
Confining our attention to the first TV series, there were two spankings and two near-misses. We've decided to forget about the near-misses for now although we know which episodes they were in, and concentrate on the actual spanking action. The first of these was the best from the standpoint of OTK positioning, and took place in episode 10 of the first season, being aired originally on December 6, 1962.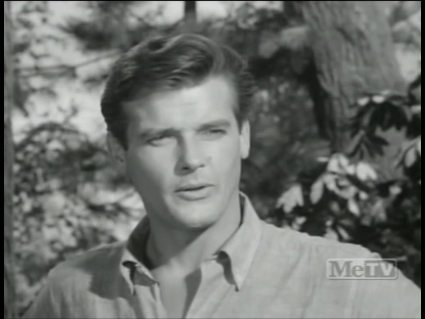 Roger Moore, seen here at a youthful-looking 35 years of age, plays Simon Templar.
"The Golden Journey" is about Templar's (Roger Moore) walking trip across Spain. He has contrived through means not exactly honest to be accompanied by a rich, spoiled heiress who, if memory serves, is going to be married to some pal of his. Templar thinks she needs a good comeuppance if she's going to make a good wife, and since he chooses to spank her when called for we're inclined to forgive his somewhat unethical method of forcing her to come along with him.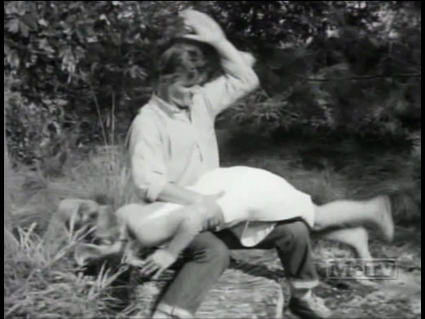 Roger Moore spanks Erica Rogers in a nice long spanking scene from "The Golden Journey".
When Templar explains to her that she must do chores like anyone else, she explodes into a fit of rage and slaps him. Well, that does it - OTK she goes! We get to see 3 spanks land and hear another 14 along with a woodcutter, who starts clapping his hands in rhythm. This is a well-acted scene, and Roger Moore is particularly good at looking satisfied with a job well done when he finally lets her up from his lap.