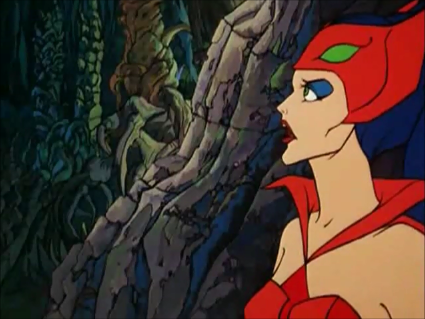 Catra, one of She-Ra's enemies, reacts with a sharp intake of breath to being told she's only just barely avoided a spanking.
There were no spankings in the animated cartoon series She-Ra, Princess of Power, but there was at least one "close call" which we'll take a look at now. The villainous Catra has apparently been doing the things that bad girls do, and a fire-breathing dragon doesn't like it! He tells Catra that if he "wasn't such a nice dragon, I'd take you over my knee and spank you!" but all he does is literally blow smoke in her face. It's not bad as threats go, but of course we'd have preferred to see Catra actually get spanked, and since there was a moral in each episode we don't see why it couldn't have been "Bad girls get the punishment they deserve" this time.
The exact date of this episode is not known, but it must have been 1985 or '86. We have a little more to say about the series generally in Octavia Spanks She-Ra.