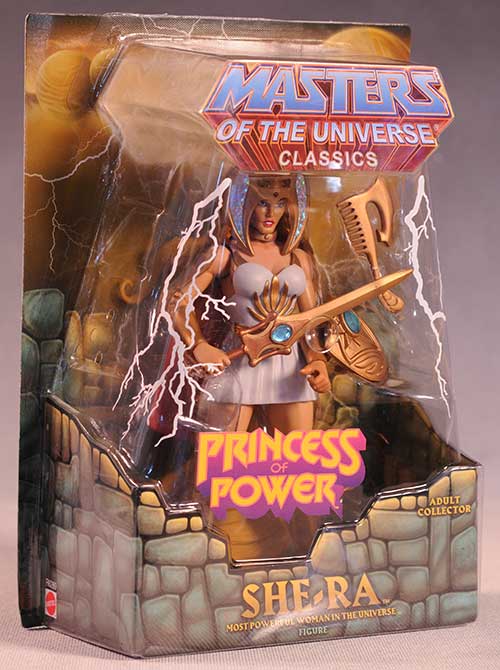 The She-Ra action figure, part of Mattel's highly-successful Masters of the Universe toy line.
For a character who began as a spin-off of a cartoon which itself was based on a toy, She-Ra, Princess of Power has inspired a lot of independent spanking art. We think this is because many of today's younger (under 40) spanking artists grew up with the show, which ran in 1985-86. The Mattel toy company had launched a toy line called "Masters of the Universe" headed up by an extremely generic hero called "He-Man". To promote the line, Mattel partly financed the syndicated cartoon series He-Man and the Masters of the Universe (1983-85) which was produced by Filmation. While we're not too keen on the idea of characters created for the express purpose of selling toys, the case could be made that since that's where the money is anyway (for example, no one was going to get rich on the Teen-Age Mutant Ninja Turtles black & white comic book, but Turtles licensing made millions), you might as well be honest about it right upfront. And sensitive to the obvious commercialism of the series, a rather heavy-handed moral was a part of each show.
He-Man was so successful it was decided to give him a sister, She-Ra, which brings us back to young spanking artists such as El Manto Negro who did three scenes with characters from the show, the first of which we see now.
With eight arms, She-Ra villainess Octavia is well able to administer a spanking. Unfortunately for She-Ra, she's the spankee, and with her skirt in tatters and bare bottom exposed, there's little she can do but take it. Good imaginative composition with Octavia restraining She-Ra's arms, nice clear delineation, and fine coloring as we have come to expect from El Manto Negro.