Now let's go back three episodes to #20 where we have - you guessed it - more nudity! (We hope no one thinks we've forgotten about spanking and have taken up voyeurism instead - we promise we'll get to it eventually). This is the strangest and most daring of the punishments in which Muujo loses her clothing: her costume is inflated with helium, then by controlling two valves, the cat(!) causes her to be alternately raised and lowered between two sets of spikes, making a big bust (sorry!) inevitable. Don't look too closely at where they attached the helium hose to Muujo's costume, as it isn't really very nice...
You can use the player above if you have Internet Explorer with ActiveX Controls enabled, or download the Windows Media (WMV) or MPEG-2 versions here. Note: Use the WMV version to play on your computer's Windows Media Player; use the MPEG-2 version if you want to be able to burn it to DVD later. To download, right-click and then select "Save Target As".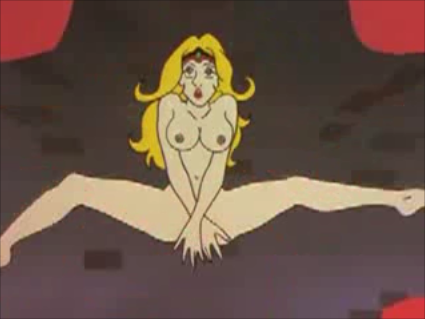 Muujo loses all her clothes this time, but we only get to see this shot for a fraction of a second - at least in the video. The producers didn't know that 34 years later, some wise-guy would use a digital computer to extract the frame and hang it out on the internet for all to see.
At this point, some of you might be thinking that Zenderman is not exactly suitable for children, expecially given Muujo's pose in that last frame, and we certainly agree. However, since comics and animation are not viewed as children's media in Japan as they often are in the West, it might be that Zenderman was scheduled late at night or had some sort of parental advisory - at least, we hope that was the case.