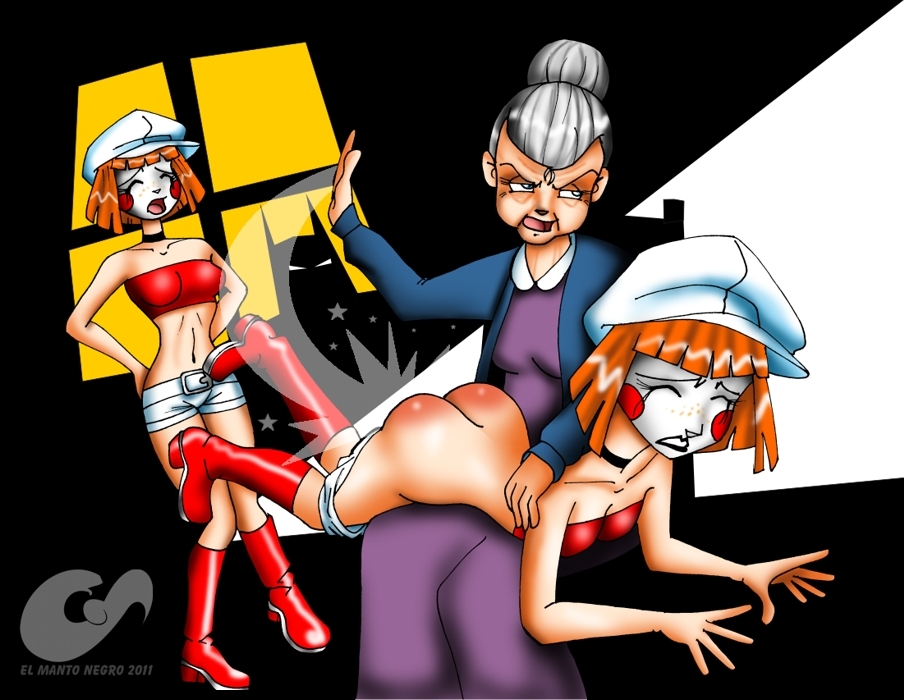 Art by El Manto Negro. Characters are © DC Comics Inc. Posted by the Web-Ed on 09/07/2012 (click to increase in size).
Last year we posted a video of Harley Quinn (as the aged Nana Harley) caning the Dee-Dee Twins in Batman Beyond: Return of the Joker. As nice as it was to see that scene in a mainstream super-hero animated film, the "caning" consisted only of a single cane stroke (which at least managed to reach both bad-girl bottoms), leaving us wanting more. El Manto Negro must have felt the same way, for he decided to do this fleshed-out continuation in which we see what happened when Harley finally got the twins home after bailing them out of jail: she gave each of them a full OTK spanking!
Good OTK positioning and a nice round bare bottom by EMN, whose work we have seen in this gallery before (see Triplicate Girl Spanked Three Times and Teen Titans Miss Martian Spanking). Another thing that makes this effort stand out is the second twin, who after already getting her spanking is standing up (as she will be for some time), rubbing her bottom.