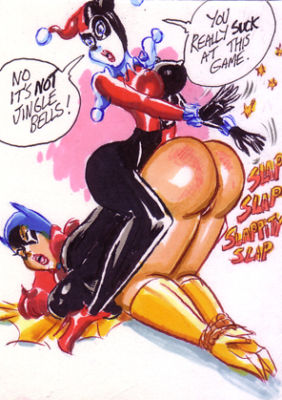 Art by Joe Gravel (although his signature is missing). Batgirl and Harley Quinn are © DC Comics Inc. Posted by the Web-Ed on 08/31/2012.
Harley Quinn and Batgirl exchange swats now in a pair of humorous cartoons by Joe Gravel. In this one, Harley plays the bongos on Batgirl's backside, apparently making a game of it by asking her to name that tune. It's a pretty funny idea, well-executed by Gravel, whose use of exaggerated anatomy fits right in with this particular gag. But turnabout is fair play, and Batgirl gets her own back next time.
[See 07/03/2015 update below].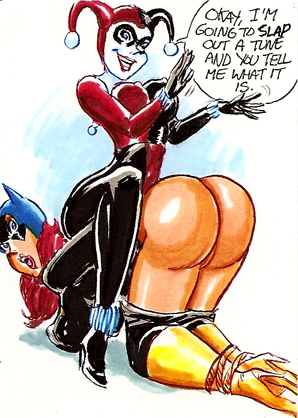 Art by Joe Gravel. Batgirl and Harley Quinn are © DC Comics Inc. Posted by the Web-Ed on 07/03/2015.
07/03/2015 update: When we posted the cartoon above three years ago, we had no idea that it was part of a series of two related cartoons - in fact there's also a third entry which we'll get to in a new page. But these two form a complete, if short, sequence, which we now present in reverse order to avoid(?) confusion.
As we see, Harley actually explains the rules of the game to Batgirl before she begins spanking out the tune! Too bad Batgirl apparently never took a class in Music Appreciation - it might have saved her from receiving a few spanks! Good humor from Gravel, whose spanking work was unfortunately never all in one place, which led to these two becoming separated. We actually had to search a cartoon (mostly straight) porn site to find a lot his stuff.