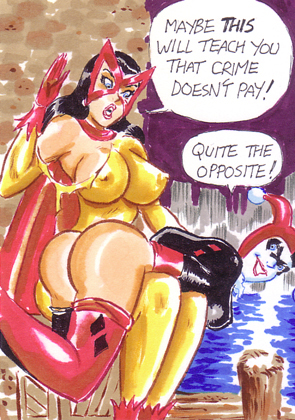 Batwoman and Harley Quinn are © DC Comics Inc. Posted by the Web-Ed on 07/12/2013.
As submissive as her personality appears to be, and as often as she winds up over someone's knee, it really wouldn't surprise us to find out that Harley Quinn enjoys being spanked. That's the gag when Batwoman catches up to Harley on the waterfront in this fine cartoon by Joe Gravel, whose work has appeared in this gallery and on the CSR Forum before. When we first came across Gravel's work, which tends to be sexy humor often involving large bosoms, we had no idea how many spanking cartoons he had done. One by one our searches kept turning them up in odd places like Xbooru and some cartoon porn sites. Considering how good they are it's surprising that no one thought of collecting them together. Actually, two people finally have: us and someone named Poopoopie over on Deviant Art. This is one of two that Poopoopie found before we did, so a tip of the cap to her for locating it first.
The OTK position is excellent, and Gravel gives Harley a very nice round spankable bottom. No "exposure" here as Gravel sometimes does and which might trouble some, so this is really a fine effort that should please everyone.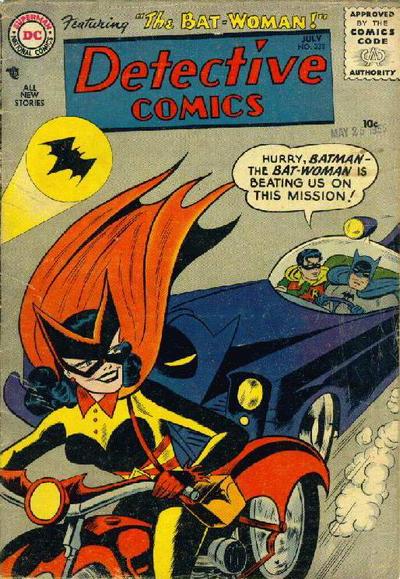 Cover of Detective Comics #233 (July 1956). © DC Comics Inc.
Batwoman has appeared three times in this gallery, for instance in Batgirl in Trouble #2, but as we removed the art upon the artist's request and since many people won't know who this character is, it might be well to say a few words about today's spanker. This is of course the original Silver Age character and not the post-Crisis retconned one we have little patience with: Kathy Kane was sort of a female version of Bruce Wayne, a wealthy socialite who was attracted to Batman and sufficiently athletic to become a female version of him in his crimefighting identity also. She first appeared in Detective Comics #233 (July 1956), very early in the Silver Age indeed, since Showcase #4, which many consider the beginning of the SA, was cover-dated September-October of that year. She eventually retired, occasionally coming out of retirement to help the second Batgirl, Barbara Gordon (the first had been her own niece, Betty Kane). As a matter of fact, she retired long before Harley Quinn came on the scene, so the spanking encounter we enjoy here could not have occurred in "real life".