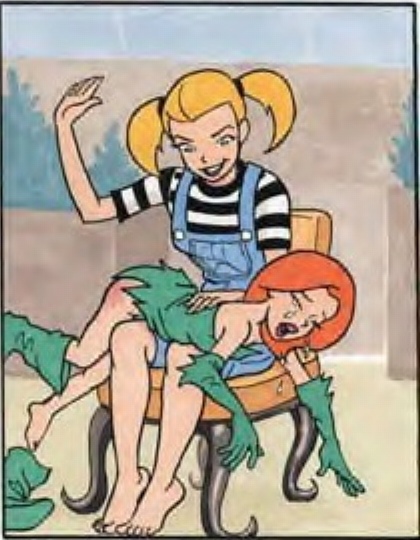 Harley Quinn and Poison Ivy © DC Comics Inc. Posted by the Web-Ed on 07/05/2013.
Sometimes our searches turn up strange but worthwhile things. We have no idea where this came from or who the artist is, and we had to stare at it for a while before we even realized the spanker and spankee were Harley Quinn and Poison Ivy! Actually both characters are drawn fairly close to DC's models, in Ivy's case before she got green skin, but Ivy is here so much smaller than Harley, who's wearing her seldom-seen everyday clothes, that it looked like a parent/child scene to us at first. Apart from Ivy being undersized, though, this is an excellent work of spanking art: the OTK position is excellent, Harley looks gleeful, and Ivy looks very, very sorry!
As much as Ivy deserves to be spanked, however (and she's a truly bad girl), it's odd to see Harley in the dominant role, for as we remarked in Batgirl spanked by Joker, she seems completely submissive. In fact, the two previous times we saw her interact with Ivy, it was Ivy who spanked Harley as drawn by Covens Oz and Jenna the Spanking Fem-Fatale (scroll through the interview until you find it).