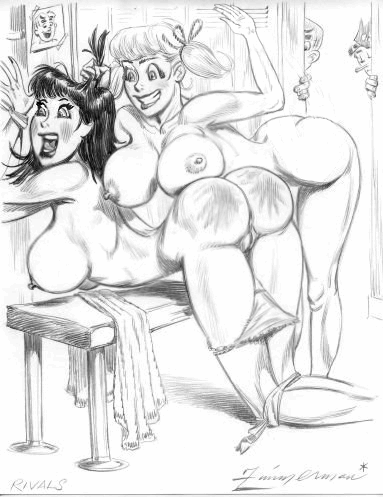 Betty spanks her rival Veronica in the girls locker room while Archie and Jughead watch surreptitiously. Art by Julius Zimmerman. The animator is unknown. Characters are © AP. Posted by the Web-Ed on 10/23/2015.
Romantic rivalries can be complicated things. We're not sure exactly what it is that Archie Andrews has that makes both Betty and Veronica consider him such a prize catch, but that the two girls are rivals cannot be doubted, and it does make for plenty of storylines - important, if your comic is going to be around for seventy-five years like Archie's has. Julius Zimmerman, no stranger to CSR, decided to look at this situation behind the scenes - inside the girls' locker room, no less - in a piece he entitled simply "Rivals".
Having subdued Veronica, tying her wrists and knees and bending her over a bench, Betty proceeds to smack her bottom, leaving some nice hand prints! This was a great subject for animation, and the unknown animator did a fine job, moving Betty's hand from side to side so that Veronica's bottom is evenly toasted. The expressions change wonderfully too, especially Betty's showing great determination while Veronica seems to be cying out "Ahhhhh!" Zimmerman's comically-oversized boobs are in evidence here and less in the way (in a double sense) than they sometimes are, while Archie and Jughead peeking around the corners of two lockers is a nice touch. Come to think of it, they have a nice view of Betty's rear as she bends over, but alas seem not to have brought along a school paddle. Archie's picture taped to the inside of Veronica's locker reminds us of the reason for the spanking.