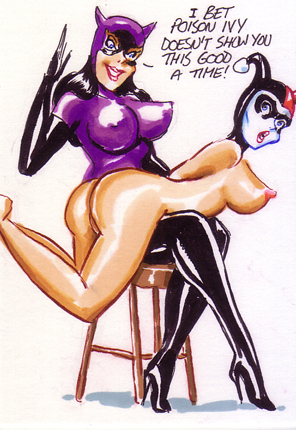 "I'll bet Poison Ivy doesn't show you this good a time!" purrs Catwoman to a puzzled Harley Quinn. Art by Joe Gravel. Catwoman and Harley Quinn are © DC Comics Inc. Posted by the Web-Ed on 07/24/2015.
We've seen a lot of people spanking Harley Quinn so far in this gallery, and it looks like even Catwoman wants to get in on the act. Of course, punishment is a good reason for spanking a villainess like Harley, but another motivation would seem to be evident here. Nothing new in that either - all the Ivy/Harley spankings we've seen take place in the context of the two being partners in (at least) crime, with a sexual component being possible but not highlighted. Now, obviously the 1992 Batman: The Animated Series cartoon was not going to suggest overt lesbianism when it brought the two characters together, but later, two of DC's writers, Jimmy Palmiotti and Amanda Conner acknowledged the existence of such a relationship ("Girlfriends without the jealousy of monogamy" as they put it). Exercising considerable self-restraint, we will not comment upon what that particular phrasing suggests about the state of our culture, but we bring the whole matter up so that Catwoman's evident attempt to convince Harley of her virtues as an erotic spanker compared to Ivy makes some sense.
Harley appears a little surprised - why we don't know since she's buck naked from the neck down over Catwoman's knee. Therefore, we'd have to say Joe Gravel's gag is a little obscure here. But his art is clear as ever, with Harley fairly well-positioned (a little too far back for balance) and offering her nice round bottom to Catwoman's spanking hand. Gravel's humorously-oversized boobs are, of course, also plainly in evidence.