For the fifth time we're going to see Batgirl spanking Harley Quinn. However, in contrast to the broad humor of Joe Gravel which we've seen with this pairing so far (most recently in Batgirl spanks Harley #2, Batgirl spanks Harley #3, and Batgirl spanks Harley #4), El Manto Negro here chooses to emphasize another aspect of spanking, namely the dread which normally afflicts the spankee when the moment of truth is at hand. No playful smacks or games here - this is going to be a serious butt-whacking, and Harley knows it!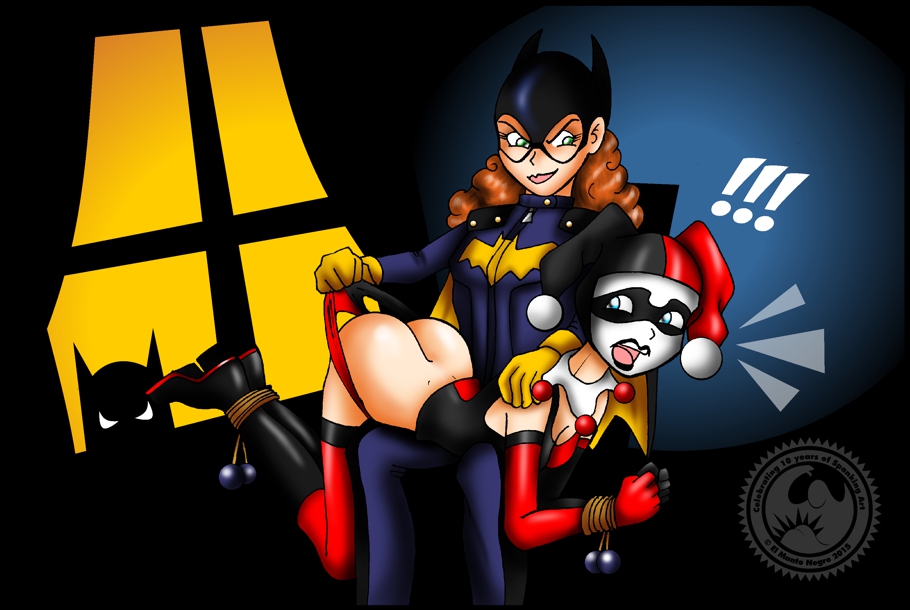 It's when the panties come down that the spankee knows her number - and her bottom - are up! We think it's fair to say that at this moment, Harley sincerely regrets her life of crime - but not as much as she's going to! Art by El Manto Negro. Batgirl and Harley Quinn are © DC Comics Inc. Posted by the Web-Ed on 07/17/2015.
As Batgirl takes her panties down (nice job with the bi-color panties to match her costume, by the way), Harley looks very worried - and for good reason! With her hands and ankles bound by bolos, and well turned-over a determined-looking Batgirl's knee, Harley knows she's going to get what she has coming to her, and it's going to hurt! Meanwhile, in another nice (and atmospheric) touch, the shadow of the Batman appears on the window, overlooking the scene (with approval, we would suppose).
El Manto Negro gives Harley's buttocks his usual long line, avoiding the fault (in nature) of the "short" buttocks and providing the spanker (and us) a more tempting target. He also seems to have modeled Batgirl's face more on that of actress Yvonne Craig than on any examples from DC/Warner. (Yvonne Craig played Batgirl on the old Batman TV series, as we discussed Batwoman Spanks Two Batgirls. Overall, this is a great effort by EMN!