Last time (and for the first time) we saw Clark Kent spanking Lois Lane (that is, Superman using his Kent identity). CSR Resident Artist Hugob00m found an ingenious way for Superman to spank Lois without possibly overdoing it - spank her as Kent, in which identity he has trained himself to use only the strength of a normal man.
But what if, as Kent, Superman discovers that Lois has had an affair with the infamous Lex Luthor? Might he not just "boil over" and administer a super-spanking on the spot? That seems to be the line of thinking in this 2003 drawing by an artist we know only as "Pat".
At left we see an incriminating note from Lois to Lex, enlarged and rotated to make it easier to read. No wonder Clark is burning mad!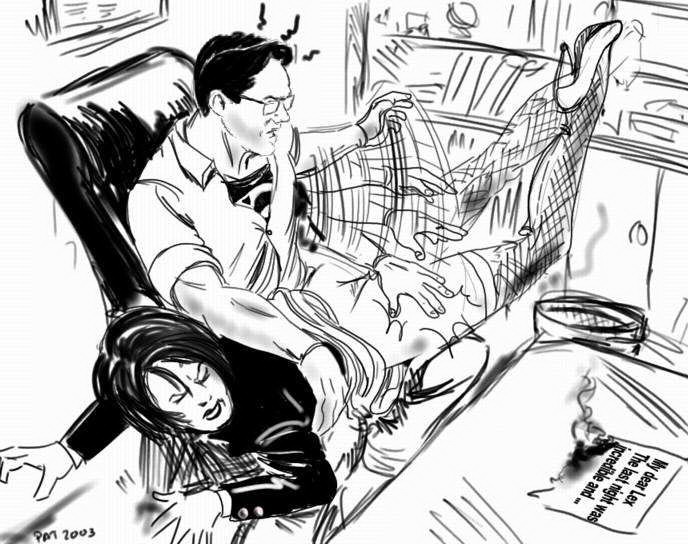 An incriminating note leaves Clark Kent burning mad and Lois Lane on the hot seat! Art by Pat. Characters © DC Comics Inc. Posted by the Web-Ed on 08/12/2017.
It looks like Clark is having trouble controlling his super-speed as he lays on the spanks! This is obviously meant to be taken humorously as the kind of "super-spanking" that was occasionally mentioned in the old comic books. When Clark saw the note, he got so angry his heat vision must have switched on and set fire to it.
We dug this one up on a cartoon porn site called Rule34 where we have found other spanking cartoons every now and then. It apparently dates back to 2003 although we only found it recently. We don't know of any other spanking cartoons by "Pat" so it may be that most of his work is straight porn. He does a decent job here with a rather unusual viewing angle - almost straight on (that is, in front of Lois) - and she's squarely over his lap but without as much bending at the waist as we'd like to see. Lois' outfit seems rather strange - a jacket or blazer with fishnet stockings? - and her skirt and panties are missing, but however that happened (maybe Clark tore them off at super-speed) at least her bottom was left bare for the spanking.