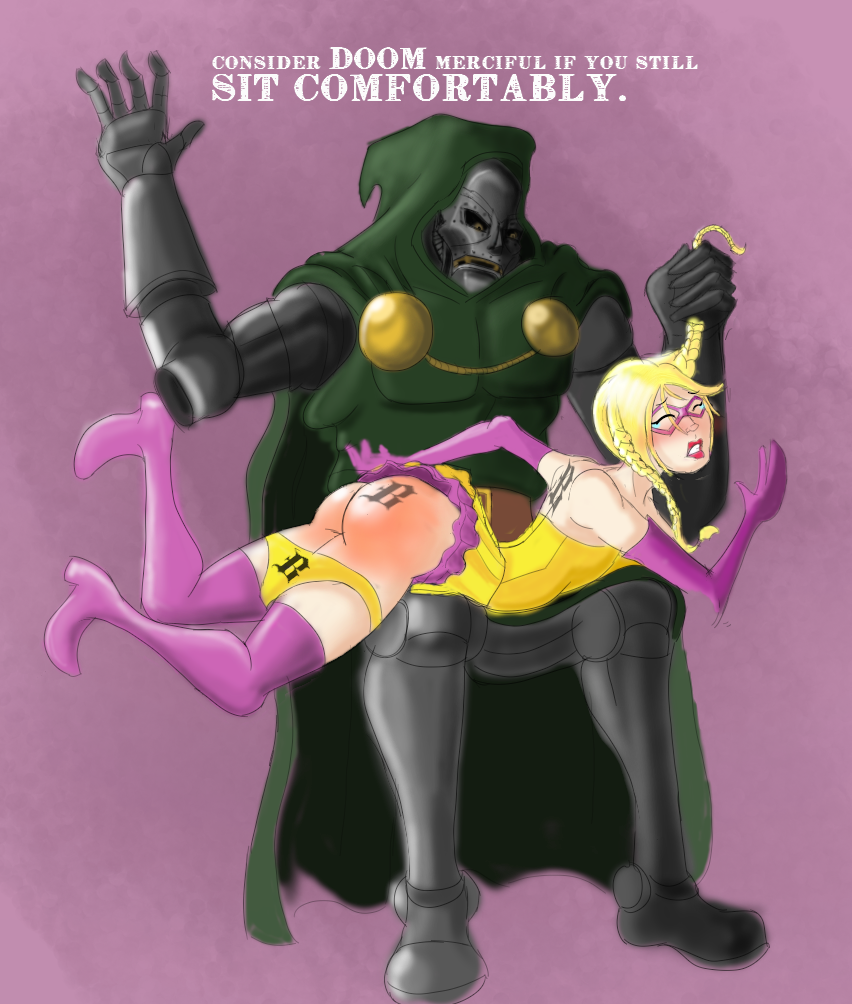 "Consider Doom merciful if you still sit comfortably!" Dr. Doom is © Marvel Characters Inc.; Blitzkrieg is © DC Comics Inc. Posted by the Web-Ed on 07/10/2015 (click to increase in size).
Another unusual pairing as Dr. Doom spanks Blitzkrieg. For one thing, spanker is much better-known than spankee here: Dr. Doom goes back to Fantastic Four #5 (1962) and must be considered one of Marvel's top villains by any standard, while Blitzkrieg is a relatively little-known DC villainess who first appeared in Catwoman #66 (June 2007) only eight years ago. Thus we have another Marvel/DC crossover spanking. (Somewhat confusingly, DC has two other characters of the same name, Baron and Baroness Blitzkrieg, and Marvel has one!).
Good OTK positioning, although we don't care much for hair-pulling, and it was clever of the artist to give Blitzkrieg a "B" tattoo in a strategic location (the one on her back seems to have been part of the character design). Dr. Doom is doin' some tattooin' of his own on that same spot, giving it a nice pink color. The artist is Lys, by the way, who has done a fair amount of spanking work, mostly F/F but a small amount of M/F as here.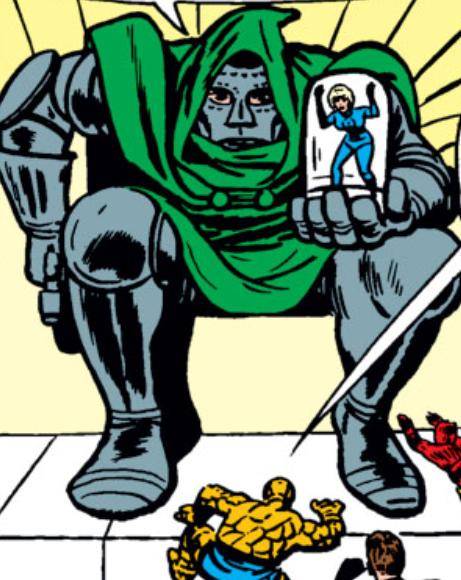 Dr. Doom has reduced the FF in size, because that's what super-villains do! He put Sue Storm in a glass, but didn't spank her.
Blitzkrieg (above), with her blonde pigtails, is the kind of character you'd have expeced to see back in the 1940's - a stereotypical Nazi villainess. The teutonic aspect of this character doesn't seem to be played up too much, and outside of serving as an antagonist for Catwoman she doesn't seem to have done much. Genuinely evil, she certainly does deserve a spanking!
Dr. Doom doesn't really need any introduction. Here he is (at left) up to his usual mischief, in Fantastic Four #16.